Fairy Meadow Backgrounds Two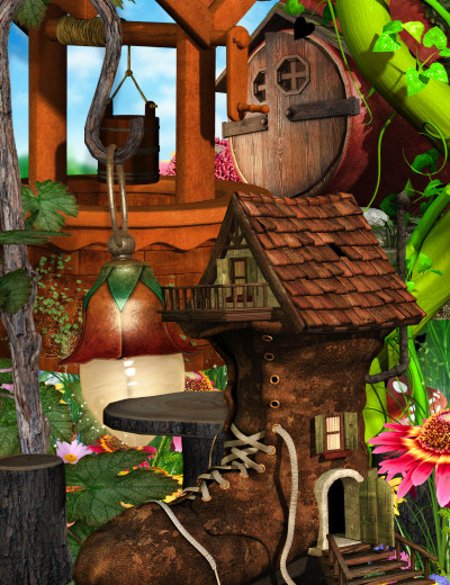 ---
Fairy Meadow Backgrounds Two
38 Fantasy Graphics in the PNG format
Welcome to a place of ancient tales…
the place where fairies reside.
This is the second part to my Fairy Meadow package.
The Fairy Meadow becomes a place of fairy tales and nursery rhymes with this fabulous background package. It includes a background with a giant bean stalk, a wishing well, a shoe house, adorable little houses, and fairy flowers. What fairy or other fantasy character wouldn't love it?
Several props are also included for your artwork or other design projects–bean stalks, a shoe house, lanterns, a well, a rustic wood table and chairs, and fairy houses. I also threw in a few flower clusters that I used in my designs to help you quickly build a scene, but you can download the flowers from my Fairy Background package to create your own unique fantasy design.
The size of the backgrounds are 2308 X 3000 pixels. All are 300 DPI, making them great for print projects.
Members can use the tubes for personal or commercial projects, including web design, template design, graphic design, t-shirt design, candy wrappers, scrapbooks, and signature tags
---
---