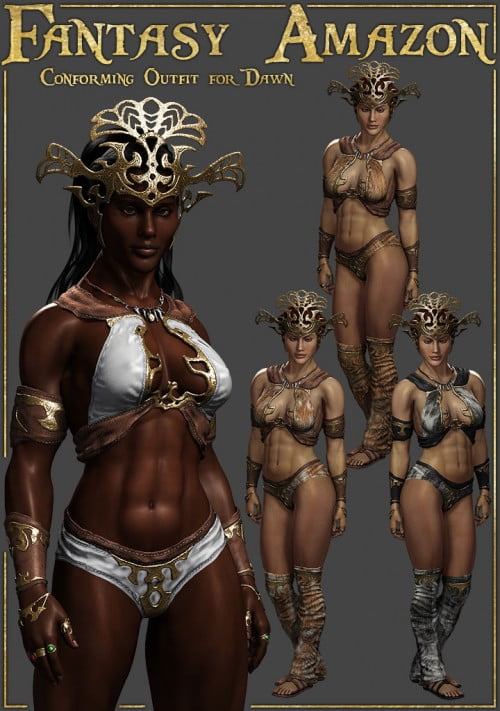 This set includes:
Armlets
Bracers
Top
Bottom
Leg Wraps
Sandals
Headress
Hand Jewels
The following FBMs are included in the outfit:
Bulk
Definition
Toned
Voluptuous
Supermodel
Breast Cup D
Breast Cup E
Breast Natural
Support for RawArt's Kerri for Dawn is also included. If you own Kerri the outfit will superconform to her shape.
This outfit is setup with Superconforming FBMs. The supported morphs of the outfit will follow the morphs of Dawn automaticly. Adjustments can be made manually by selecting any part of the outfit and using the dials to adjust as desired.
This version of the product is for Poser and it is rigged with Weight Maps which are only supported in Poser 9, Poser Pro 2012, Poser 10, and Poser Pro 2014.
Required Products:
Poser 9 or Newer
HiveWire 3D Dawn
RawArt's Kerri (Available at HiveWire 3D's Online Store)
The following Morph packs are required for full compatibly with he clothing:
Dawn Starter Morphs
RawArt's Kerri for Dawn
Dawn Figure, Hair, and Skin Textures NOT INCLUDED!
---