Fedoraville Vehicles Volume 1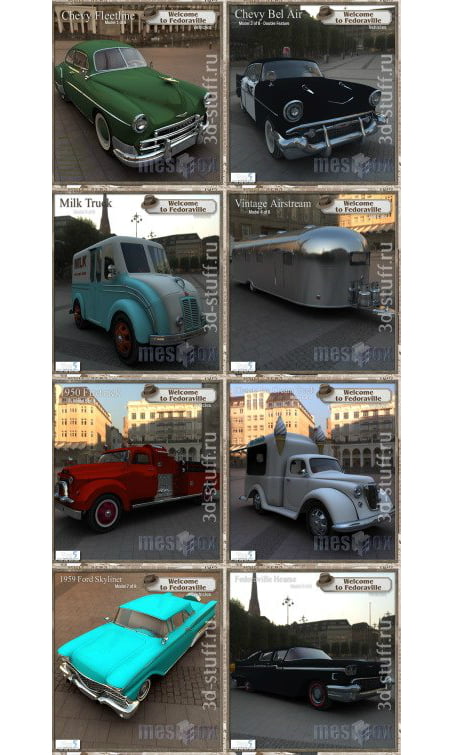 Welcome to Fedoraville – a city trapped in the decade that ended in 1960! Fedoraville Vehicles Volume 1 is a set of 'road objects' of Fedoraville, a town of black and white wholesome goodness!
This series includes a 3DS format, Poser 6+ Prop PP2, Bryce BR5 and Vue VOB version. Includes an ?unwrapped? medium resolution texture map (2048×2048). Some models also include transparency maps for windows.
FVV1V101?1950 Chevy Fleetline
FVV1V102?1952 Chevy Bel Air Police Car and Stock Bel Air Double Feature
FVV1V103?Fedoraville Milk Truck
FVV1V104?Fedoraville Vintage Airstream Trailer
FVV1V105?Fedoraville 1950 Fire Truck
FVV1V106?Classic Ice Cream Truck
FVV1V107?Fedoraville 1959 Ford Skyliner
FVV1V108?Fedoraville Hearse
FVV1V109 Bonus Model – Fedoraville Ambulance
---