Futuristic for Exquisite Ornaments Outfit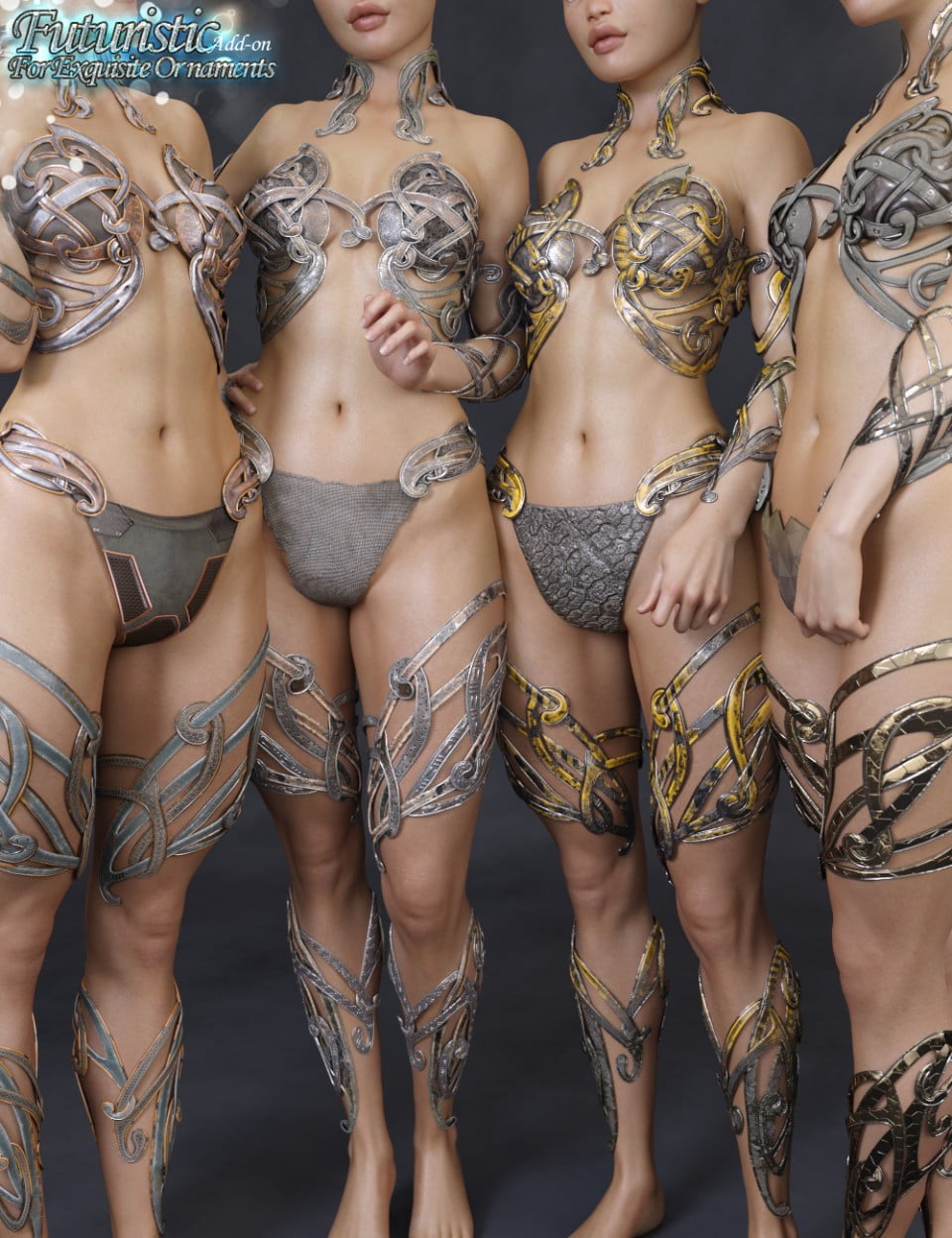 ---
Futuristic for Exquisite Ornaments Outfit
Intricate jewels can manage to fit in the far tomorrow, whether to decorate an high level corporation boss or through the creative forging of an eccentric dweller of a post-apocalyptic world. There is always space for intricate beauty: even in Space!
Inspired by our love and passion for futuristic settings and the idea that almost anything can suit any time when infused with the right spirit, we created a set that explores the more forward side of Exquisite Ornaments and that projects them in a handful of possible futures:
– An high-tech, corporation-run, cyberpunk one, currently aptly set around 2077. If you can wear cybernetics, you can definitely decorate yourself with complex tech-infused ornaments that give you style and a boost in skills!
– A futuristic sci-fi tomorrow where you can easily run into an Orbital Merc-cladded agent. The typical depiction of nowadays in a couple of centuries where Aliens are nothing alien.
– A post-apocalyptic one, five or five hundred years from now, where people had to start anew and scavenging is the way of life. Still, there are those that are inspired and love beauty even when covered in dirt. Rough, scavenged metal and worn out leather are what you can manage!
– A rough future, nothing catastrophic has happened, not that catastrophic at least, but the divide between powerful and powerless hasn't dwindled either. Many people need to make-do and some do craftily so!
All these styles are infused with the sense of the future they represent, and certainly look amazing on themselves and can be mixed and matched for an even more variety of styles and customization.
Aeon Soul wardrobe power: mix and match clothing pieces and styles with all the outfits you have to create unique characters. Aeon Soul clothes fit each other awesomely, since they all sport the same level of quality and detail as well as additional features such as dirt and/or damage!
Most details are rendered with Normal maps only, while Height maps are only used when necessary, to reduce the workload on any machine.
What's Included and Features
4 PBR Texture Styles: (metalness based)
Cyberpunk
High-tech fabrics and hexagon decorated metals for a stylistic and abilities nano-punch.
Complete (applies to all items at once)
Arms
Chest
Forearms
Neck
Panties
Shins
Thighs
Orbital Merc
Comfy light blue leather and nanocells-covered materials to be always ready for what you can run into.
Complete (applies to all items at once)
Arms
Chest
Forearms
Neck
Panties
Shins
Thighs
Post-apocalyptic
Heavily worn-out leather that flakes off to show the bare, rough metal underneath, perforated steel arranged to be used as chest plate and scavenged old fabric.
Complete (applies to all items at once)
Arms
Chest
Forearms
Neck
Panties
Shins
Thighs
Under Construction
Yellow paint is peeling off to reveal bare metal, black and yellow stripes are fading away and the stains of oil have become part of the style.
Complete (applies to all items at once)
Arms
Chest
Forearms
Neck
Panties
Shins
Thighs
Textures Include:
258 Base Color, Metalness, Glossy, Roughness, Normal, Height (Diffuse and Specular are also included for those that prefer this kind of shaders) (4096×4096)
Daz Studio Iray Material Presets (PBR Metalness-based) (.DUF)
Notes
This product includes:
1 DSON Core Installer
---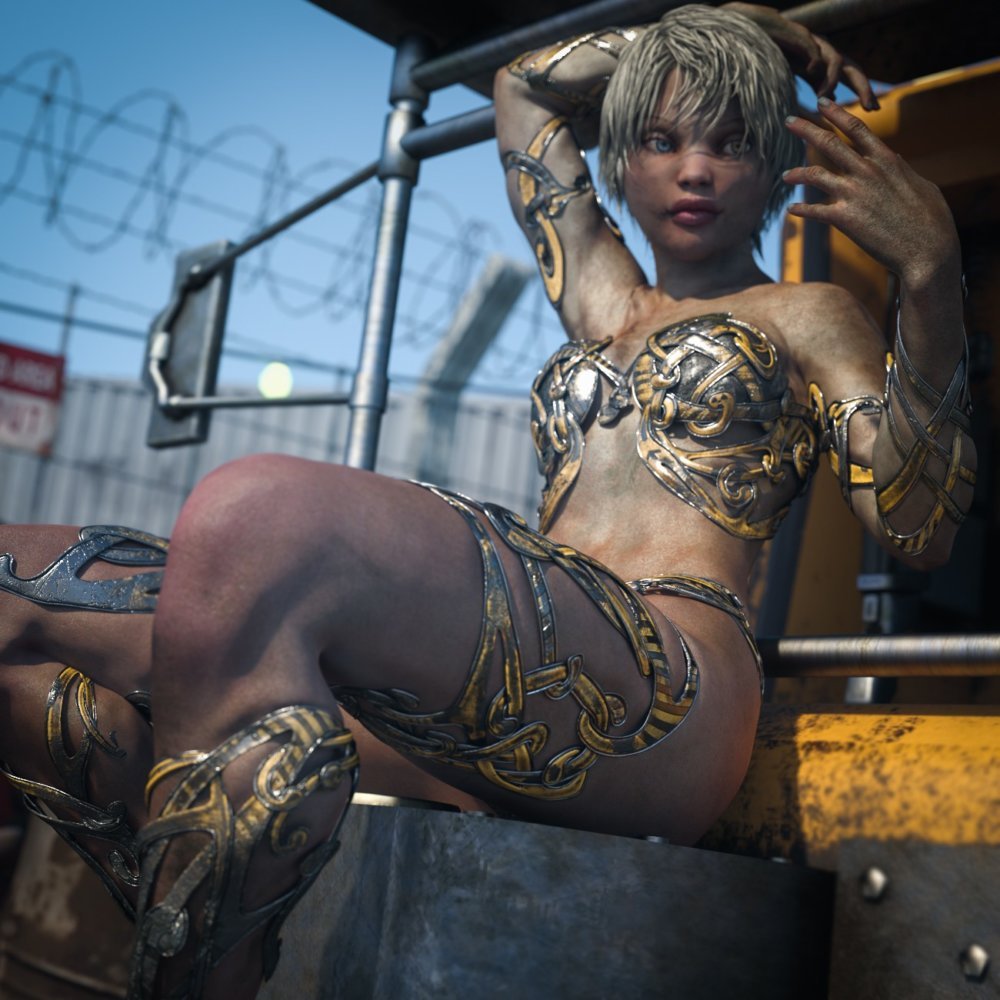 ---