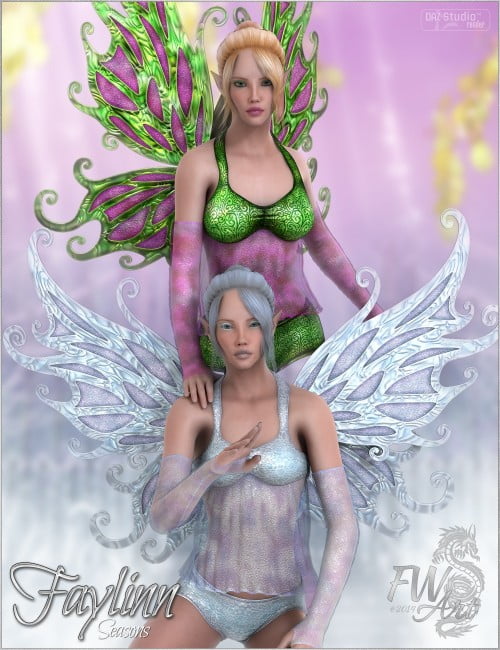 Faylinn is a high quality beautiful fantasy 4 Seasons character set for Genesis 2 Female(s) for the use in DAZ Studio 4.6 and up and Poser 9 and up.
The heads and bodies are uniquely custom sculpted in Zbrush, and the skin was created using high quality photo references for depth and detail. She also comes with custom sculpted genitals (will work without the Genesis 2 F emale genitals), a sculpted navel, nipples, nails as well as some very cool custom sculpted ears.
The heads, bodies and ears are designed with the four seasons in mind. There are four heads, four Bodies and four Ears. One for each girl, but can be mixed and matched to your liking.
Faylinn will work with the default Genesis 2 Female(s) base ONLY!!! No extra morphs are needed for the heads, bodies, nipples, navel, nails, genitals and ears!
Whether you're looking for an elf, a fairy, a young girl, a voluptuous sexy lady, or just the girl next door. Faylinn will give you exactly what you need. She has makeups that will fit each personality, a large number of eye colors to fit any theme, as well as some very cool fantasy makeups.
She comes with two base mats (DAZ Studio SSS and Poser SSS) + DAZ Studio Alternative Basic Shader, 20 makeups (four for each season, as well as one fantasy makeup for each one), plus two clear skin version (one with light brows and one with darker ones) , 18 Lips (Matte and Gloss – 14 plain and four fantasy), 16 Eye color options (12 realistic and four fantasy ones), nine Eyelash options (two brown, two black, green, blue, white and two fantasy ones), three eye reflections, seven nail colors, one natural nails option.
Faylinn's mat's will work with ALL Genesis 2 characters, so you can enjoy her even if you don't have any add on character sets.
PROMO IMAGES: DAZ Studio renders are using Age of Armor's Advanced DAZ Studio Light Bundle/ Poser render is done using light 6 from Sabby-Soft Shadows. No post work done, apart from compiling the images. Poses, Expressions, Clothing, Hair and Accessories are NOT included. Any questions, feel free to ask.
This product includes:
1 DSON Core Installer
1 Poser Companion Files Installer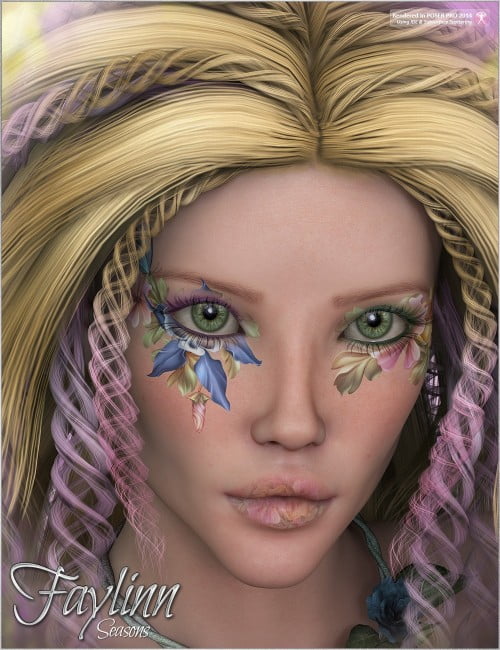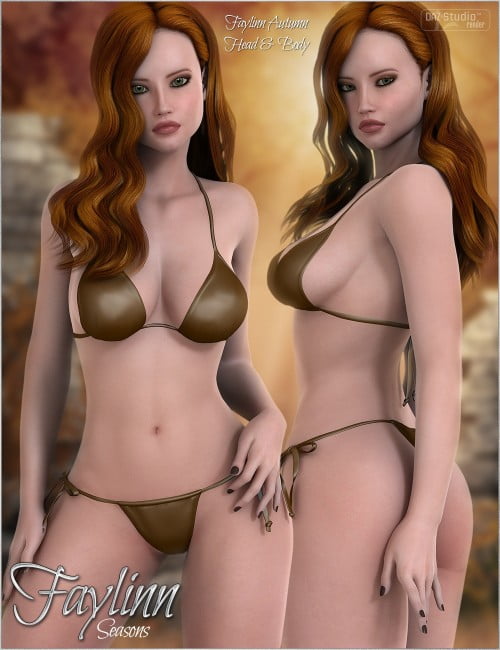 ---