FW Porsha HD for Victoria 6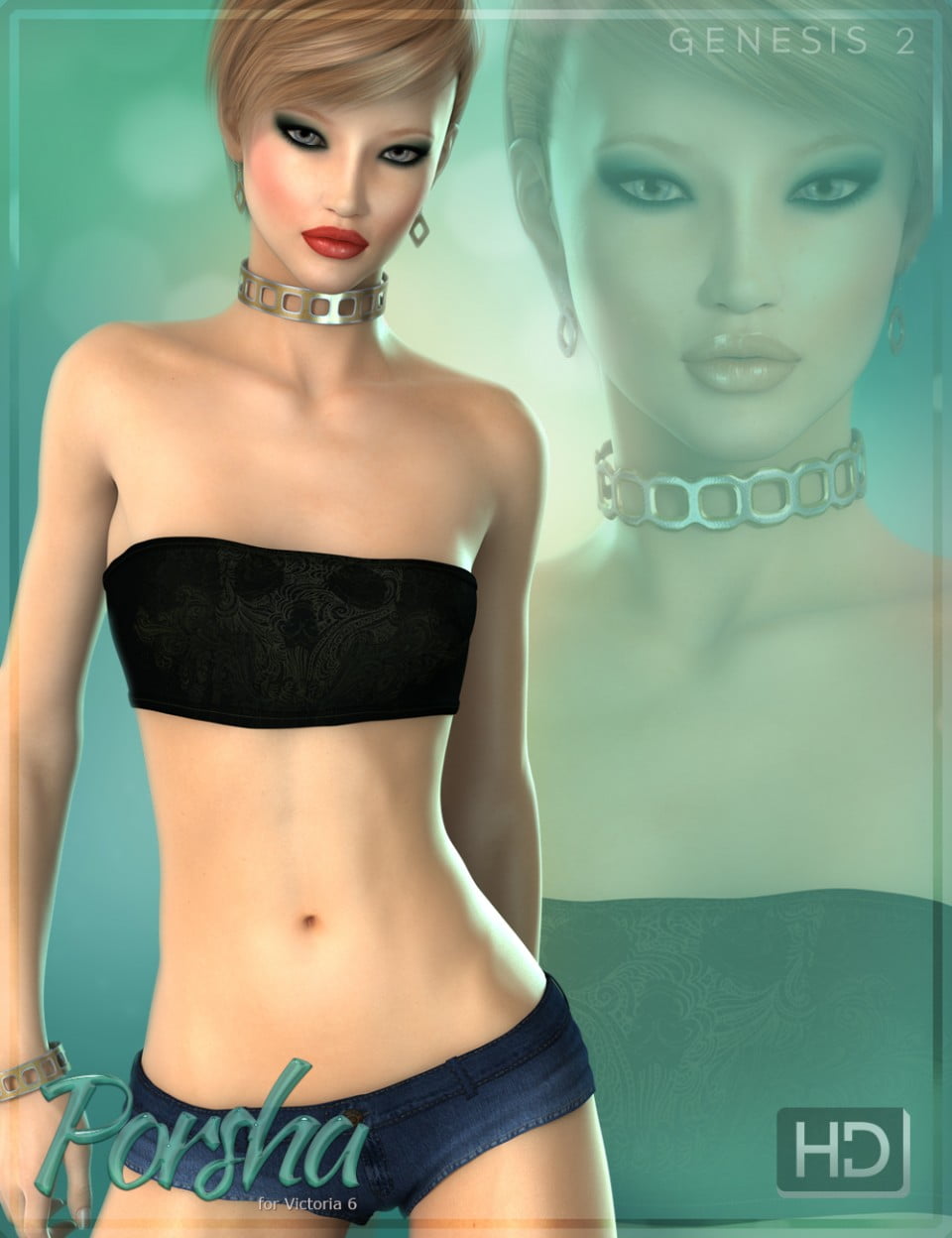 DSON Importer for Poser, DAZ Studio 4.8
The head and body are uniquely custom sculpted in Zbrush, and the skin was created using high quality photo references for depth and detail. She also comes with custom sculpted genitals (will work without the G2F genitals) and square nails. Furthermore there are custom nipples that will apply when the main morph dials are applied.
There is also a great Sexy Pout Expression that can be applied via the library or using the specially created dial.
Furthermore she also comes with a very cool and extremely modern set of jewellery. You'll see them on the runways and fashion shows everywhere this year, so why not add some great modern twist to your renders now. Included are a choker, earrings and bangles. These look great on Porsha, but will also work on all Genesis 2 Female(s) characters.
She also comes with 3 SSS adjustments, default, lower highlights (for brighter lights) and higher highlights (for lower lights).
So whether you're looking for a slim tall young woman, a supermodel, a fashionista. It-girl, … Porsha will be perfect for all renders.
Also included are three character lights for DAZ Studio helping you achieve fantastic looking renders. Simply change the colour of the lights to suite your scene.
Porsha measurements courtesy of Measure Metrics for DAZ Studio:
Height: 6′ 1″ (1.87 m)
Bust Circumference: 33.6″ (85.3 cm)
Waist Circumference: 23.3″ (59.1 cm)
Low Hip Circumference: 35.8″ (91.0 cm)
What's Included and Features
Porsha: (.DUF and .CR2)
Shapes:
1 Character Preset
1 Head Morph Apply/REM
1 Body Morph Apply/REM
1 Nipples Apply/REM
1 Nails Apply/REM
1 Navel Apply/REM
1 Genitalia Apply/REM
1 Sexy Pout Apply/REM
Makeup and other Options:
9 Subtle Makeup Options
9 Bold Makeup Options
2 Liner Only Options
1 Makeup Off Option
Lip Options:
10 Lip-gloss Colour Options
1 Just Gloss Option
1 Natural Option
Nail Options:
10 Nail Colour Options
1 Nail Colour Natural Option
Eye Options:
8 Realistic Eye Colour s
4 Eye Reflections Options
Tattoo Option:
1 Ankle Tattoo Apply/Rem
3 SSS Strength Options
3 DAZ Studio Light Sets (.DUF – DAZ Studio Only)
Porsha Jewelery (.DUF and .CR2)
Choker
4 Scale Morphs
15 Movement Morphs
8 Adjustment Morphs
3 Style Morphs
Earrings
2 Style Morphs
Adjustment via Ghost Bones
Bangle
Zero, Left and Right Loading
Adjust via Parameter
5 Style Morphs
10 Materials:
All Items
Brass Edged
Brass Hammered
Brass Smooth
Steel Edged
Steel Hammered
Steel Smooth
Mix 1 Edged
Mix 2 Edged
Earrings
Hooks Brass
Hooks Steel
Textures Include:
4 Texture, Bump and Transparency Maps (1000 x 1000)
1 Reflection Map (1048 x 1048)
2 Texture and Bump Maps (2000 x 2000)
10 Texture, Bump and Reflection Maps (2048 x 2048)
7 Bump, Specular, Reflection and Mask Maps (4000 x 4000)
1 HDRI Map (4096 x 2048)
54 Texture, Bump, Specular, Displacement and Mask Maps (4096 x 4096)
2 Bump and Reflection Maps (1000 x 1000)
1 Metal Map (1024 x 1024)
This product uses the Genesis 2 Female Base UV Maps
DAZ Studio Material Presets (.DUF)
Poser Custom Material Presets (.MC6 and .DUF)
Notes
.
This product includes:
1 DSON Core Installer
1 Poser Companion Files Installer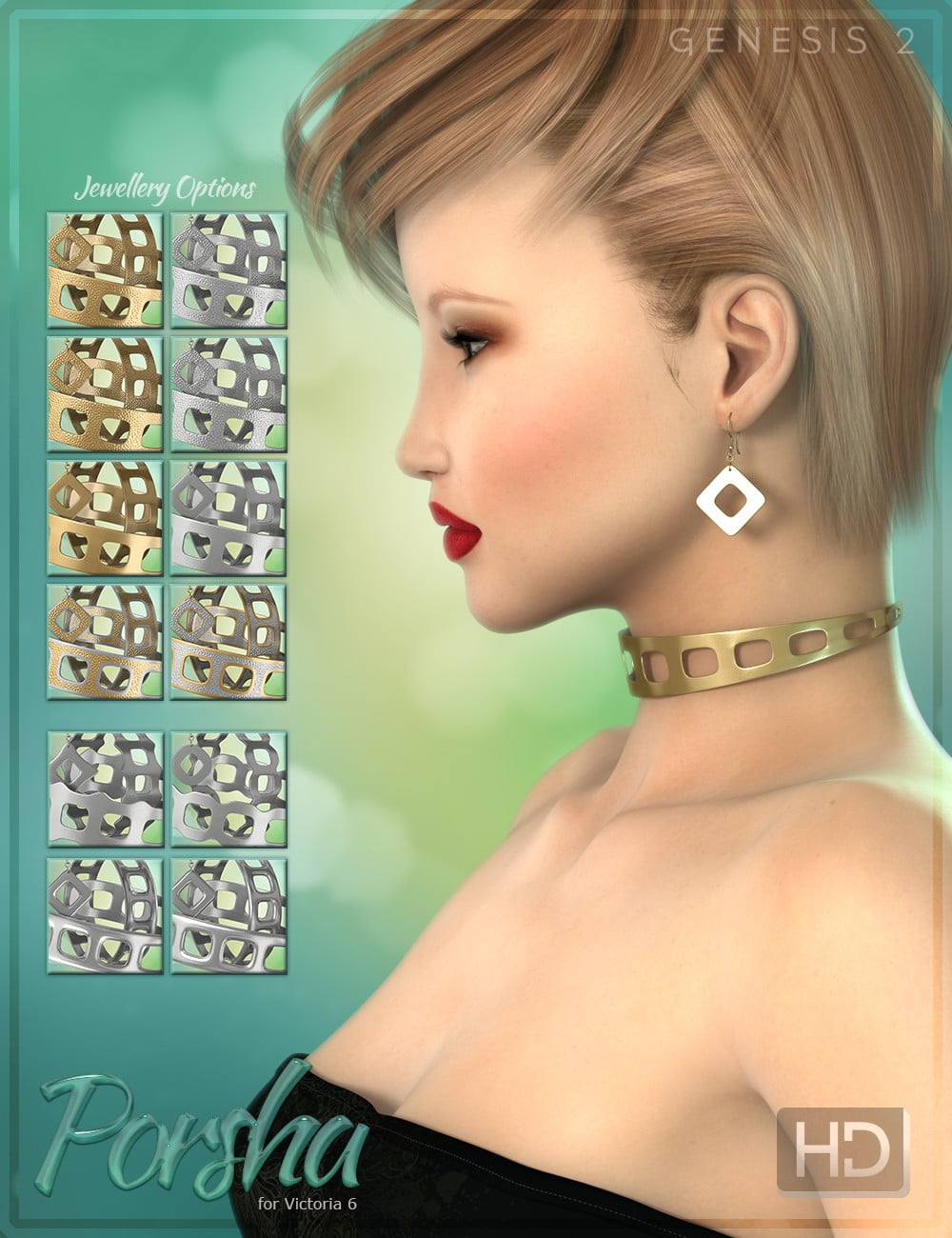 ---