FWSA Zoe HD for Victoria 7 and LF Tantalizing Undergarment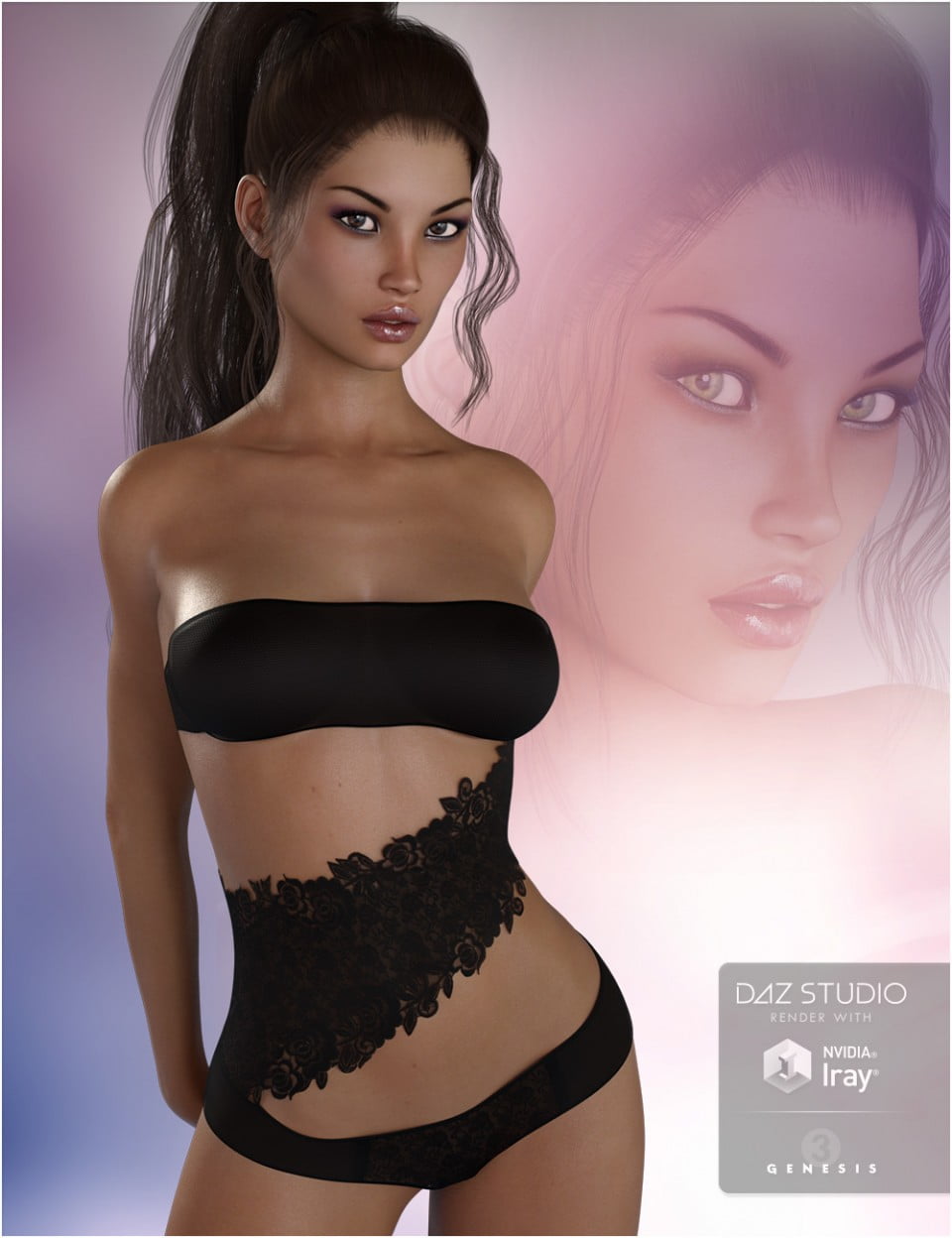 Zoe is a high quality character for Victoria 7 for use in Daz Studio 4.8 and up. It also includes a very special lingerie set.
Fred Winkler Art and Sabby teamed up with Lilflame to bring you this exciting and very special release. Introducing FWSA Zoe, a busty young character for Victoria 7 and LF Tantalizing Undergarment for Genesis 3 Female(s)
The head and body for Zoe are uniquely custom sculpted in Zbrush, and the skin was created using high quality photo references for depth and detail. She also comes with custom sculpted square nails as well as longer upper lashes that can be dialed to your desired length. Furthermore there are custom nipples that will apply when the main morph dials are applied.
There is also a Sexy Lips expression included that can be applied via the library or using the specially created dial.
So whether you're looking for a seductive sexy lady, a busty young woman, or the girl next door … Zoe will be perfect for all renders.
The Tantalizing Undergarment was designed with Zoe in mind, but also had loads of fits and adjustments giving all your Genesis 3 Female(s) a fantastic new sexy lingerie outfit.
Please Note: While Zoe and the Tantalizing Undergarment were designed with Daz Studio 4.8 in mind, and its amazing Iray render engine, she will also work and look great using the 3Delight render engine! (Glitter options are for Iray only)
What's Included and Features
FWSA Zoe HD for Victoria 7: (.DUF)
Zoe Full Character Preset
Zoe Head Apply/REM
Zoe Sexy Lips Apply/REM
Zoe Body Apply/REM
Zoe Nails Apply/REM
Zoe Nipples Apply/REM
Zoe Navel Apply/REM
Character MAT
Anatomical Elements MAT (Applies with Base)
2 Translucency Strength Options
Make Up Options:
7 Subtle Makeups
7 Bold Makeups
1 Glitter Off Option
1 Makeup Off Option
Lip Options:
7 Lip Colors
1 Gloss Only Option
1 Remove Gloss Option
Nail Options:
7 Nail Colors
1 Add Gloss Option
1 Add Glitter Option
1 Remove Option
Eye Options:
7 Realistic Eye Colors
2 Lashes Options
LF Tantalizing Undergarment (.DUF)
Adjust Morphs:
Adjust Breasts
Adjust Buttocks
Adjust Chest
Adjust Hips
Adjust Thighs
Expand All
PullDown PantiesBack
PullDown PantiesFront
PullSide PantiesL
PullUp BreastL
PullUp BreastR
Body Morphs:
CTRLBreastsImplants
CTRLBreastsNatural
FBM-FWSAZoe
FBMArabella7
FBMBethany7
FBMBodySize
FBMBodyTone
FBMBodybuilderDetails
FBMBodybuilderSize
FBMEmaciated
FBMEva7
FBMFitnessDetails
FBMFitnessSize
FBMGia7
FBMOlympia7
FBMJosie7Body
FBMKaren7
FBMPearFigure
FBMVictoria7
FBMVoluptuous
PBMBreastsCleavage
PBMBreastsDiameter
PBMBreastsSize
PBMBreastsSmall
PBMGlutesSize
Textures Include:
10 Texture, Bump, Specular and Normal Maps (1024 x 1024)
2 Reflection Maps (1048 x 1048)
2 Transparency Maps (2000 x 2000)
20 Texture, Bump and Transparency Maps (2048 x 2048)
138 Texture, Bump, Specular, SSS and Normal Maps (4096 x 4096)
This product uses the Base Female UV Maps
Daz Studio Iray Material Presets (.DUF)
Daz Studio 3Delight Material Presets (.DUF)

---
This product includes:
1 DSON Core Installer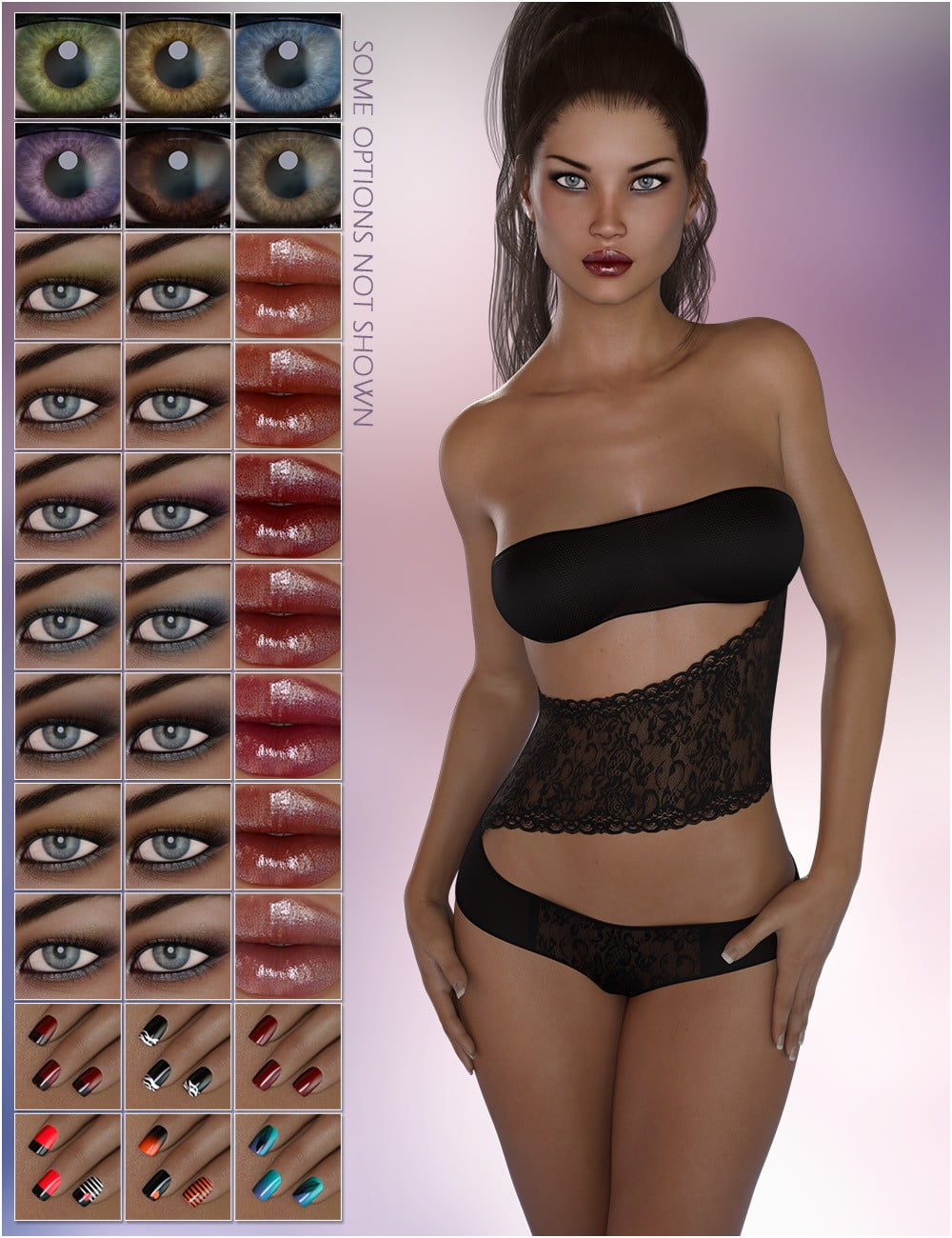 ---