G2F Shirt for Genesis 2 Female(s)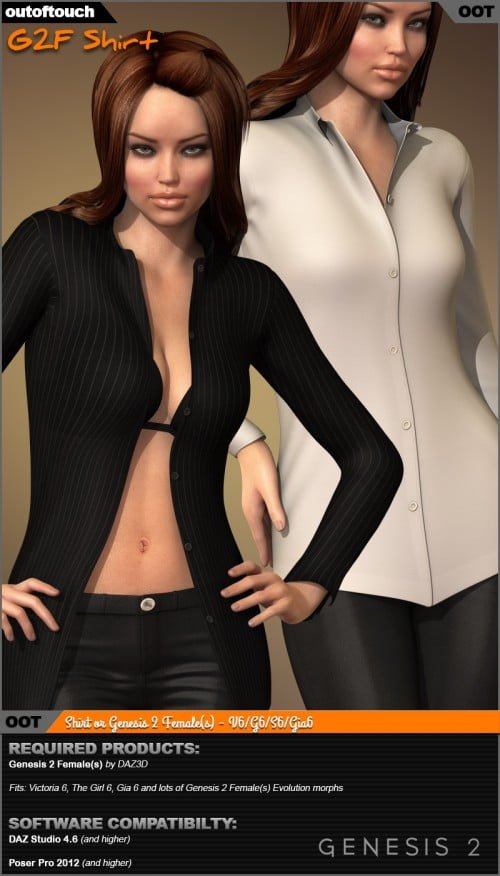 Shirt for Genesis 2 Female(s) – Victoria 6 / Gia 6 / Girl 6 / Stephanie 6
G2F Shirt is a high quality conforming T-Shirt for Genesis 2 Female(s) by DAZ3D.
Clothing figures are weightmapped figures which have been carefully smoothed and adjusted to provide you an amazing fit.
The included morphs of this high quality clothing package for Genesis 2 Females are carefully refined and reworked for smooth looks and fits with special care for cleavage. While this package comes with a selection of morphs preinstalled, it automatically conforms to any morph dialed in Genesis 2 Female(s) through auto-follow in DAZ Studio 4.6 or higher.
Poser companion files for DSON are included. Poser materials come in .mc6 format for easy use.
Included are 8 high quality and high res texture styles.
We hope you like this set, thank you very much for viewing.
——————————————————–
What you get with this package:
——————————————————–
01 Geometry files (.duf)
01 Super-Conforming Weightmapped Shirt Figure for G2F with Morphs (.duf)
08 Material Presets (.duf)
DSON Poser companion files and Poser material files (.mc6) included.
TEXTURES
10 complete high resolution texture / bump / trans maps (4000×4000) (.jpg)
01 Displacement Map (4096×4096) (.tif)
01 Normal Map (4096×4096) (.tif)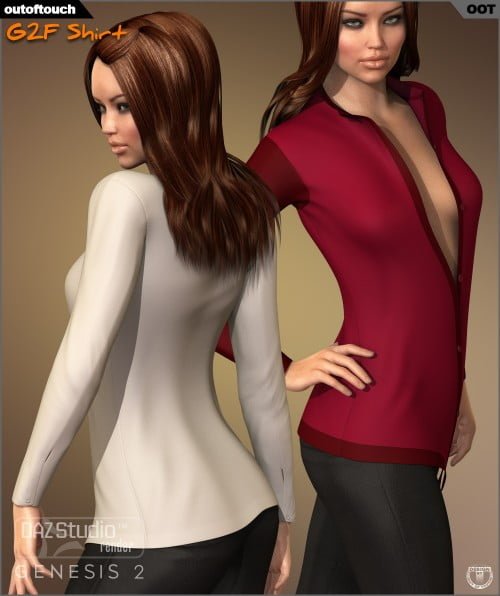 ---