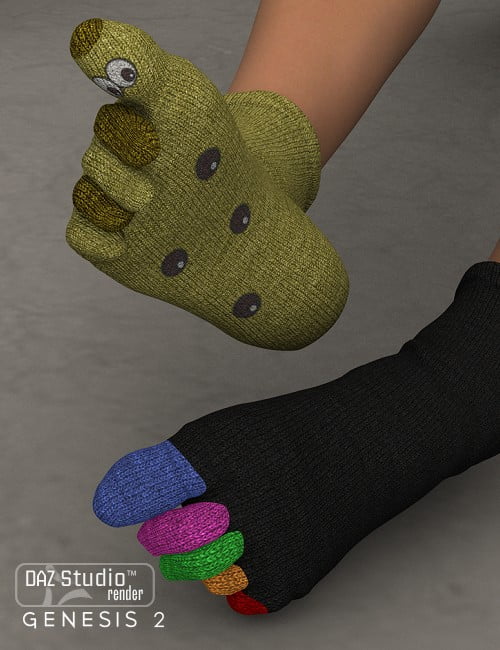 Let the fun begin and present your lady feet in a new way.
The socks come in many different styles and were designed to support the options that are given with G2F Pose controls.
There are three transmaps and several extra pose files for the separate toes you can mix-and-match to your socks.
DAZ Studio Only.
Notes
This product includes:
1 DSON Core Installer
Compatible 3D Figures Genesis 2 Female
Compatible 3D Software DAZ Studio 4.6
What's Included & Features
Genesis 2 Female ToeFun (.DUF)
1 Pair of Conforming Socks
Morph
Fix Crawl
Spread Dial this IN
Texture Options:
8 Uni Knit Styles
1 Mix Knit Style
48 Material Presets for the Knit Styles
5 Mom?s Stripes
5 Sneakers
3 TransMaps
Toeless
ToeHeeless
Sneaker
Reset
Textures Include:
40 Texture, Bump and Transparency Maps (3000 x 3000)
Texture Templates available through the Product Library
DAZ Studio Material Presets (.DUF)
---