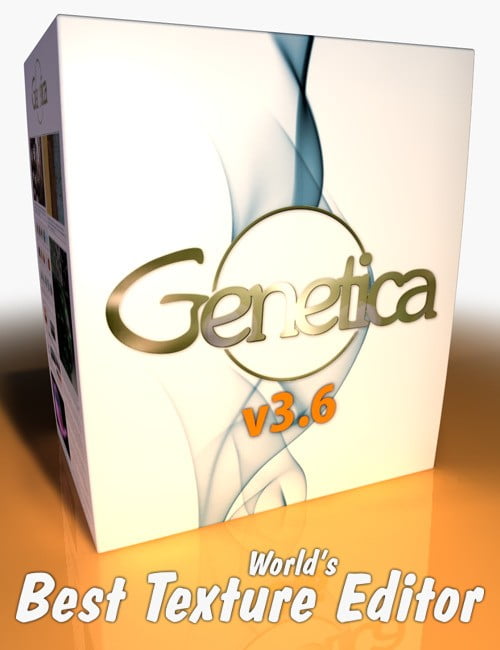 Enjoy more great features than any other material editor. See the Features box below for details.
Thousands of presets come included that can be used in your projects directly or modified as needed.
This is the Studio edition of Genetica, which includes all features of the other editions, plus the ability to create incredible animated textures and effects such as explosions, pulsating energy effects, flowing water, and more! What others are saying about Genetica:
The program can be judged by its results, and Genetica's output is wonderful.
Features new to version 3.6:
Create amazing text effects directly within Genetica.
Significant workflow improvements make this the easiest Genetica ever.
Features that can only be found in the Studio edition of Genetica:
Create incredible animated textures and effects. Animations will loop in addition to be seamlessly tiling.
Enjoy a large number of animation presets, including energy effects, fire, liquids, tech, and transitions. All presets can be modified or used as-is in your projects.
Other features:
Use photographs to quickly create the most realistic seamless textures. Use your own photos or the included library of over a thousand royalty-free high-resolution texture photos.
All graphical elements can be visually rearranged, with no change being permanent. Results are resolution independent and automatically seamless.
Create awesome designs with a full suite of drawing tools. Genetica will take care of making your drawings seamless.
Achieve realism in seconds by applying sophisticated styles to your designs.
Genetica combines the flexibility of its node-based system with a set of powerful Lab Nodes that automate tricky effects like peeling paint, cloth, rust, and more.
Genetica simulates environmental reflections, global illumination, shadows, ambient occlusion, and more, in order to give you the most realistic surfaces possible.
The number of preset textures, styles, and environment maps is now in the thousands. These royalty-free resources can be edited or used as-is in your projects.
Genetica will generate effect maps that can be used in any of the channels supported by your 3D environment, such as bump, specular, reflection, luminance, and others.
Create custom HDRI environment maps for use both within Genetica and your external 3D environment.
Enjoy fully-integrated normal map generation. Like any of the other effect maps created in Genetica, normal maps are automatically seamless and can be re-rendered at any desired resolution.
The Hair node and Fiber Lab allow artists to quickly create a wide range of fully-seamless fibrous materials from animal fur to fuzzy cloth.
The batch processor will allow you to automate a variety of repetitive tasks, such as applying the same effect to a number of textures, or automatically rendering large numbers of textures.
Export images from Genetica in formats supporting high dynamic ranges and ultra-high color precision.
Render textures up to a resolution of 6000 x 6000.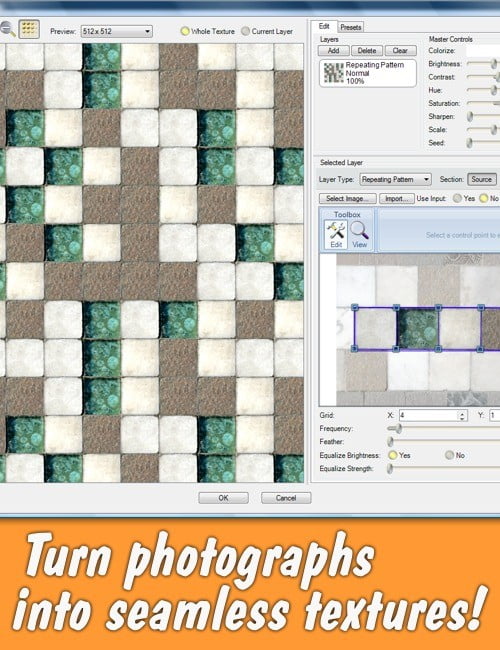 ---