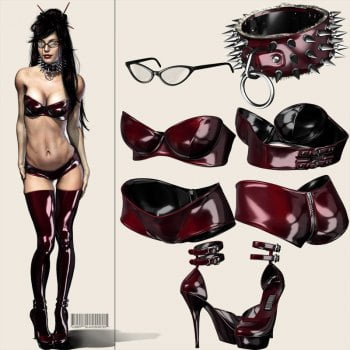 ?A set of slick and sexy latex clubwear separates to spice up your Poser centerfolds, tailored to fit The Girl Next Door 2 like a glove. Includes glossy Latex shaders and props that you can mix & match with other items in your library for an endless variety of outfits.
INCLUDES:
*Conforming Latex Brassiere
*Smart(er)-propped Latex Hotpants
*Conforming Platform Heels with hideable straps
*Smart-propped fur-lined spiked collar
*Smart-propped Eyeglasses
*custom 'Pushup' chest morph for a supported cleavage look
*4 Latex Shaders you can apply to anything, or change for a limitless variety of colors
*Displacement-mapped Latex stockings
**Note: 'Use Displacement Maps' must be enabled in your render settings for the stockings to render properly.
Optional Daz|Studio shaders for both basic D|S and pwSurface are supplied in a second product .zip. these are unsupported and use of Poser 5-7 is highly recommended.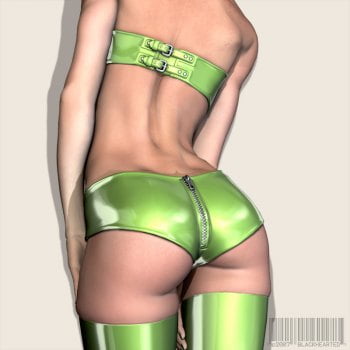 ---