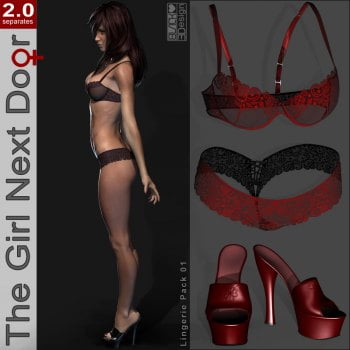 The Lingerie Pack 01 features custom designed lace textures with matching embroidery on the shoes for a signature look in intimate fashion for the Girl Next Door 2: Athletic figure.
The demi-cup bra is strapped and underwired to give push-up without padding, pair it with a cheeky high cut tanga panty that laces up in the back, or a sexy matching thong, and a pair of leather strapped platform heels to complete an interchangeable look.
Match any lipstick, nailcolor, or prop, the detail is in the lace, so you are free to change lingerie set colors with the plum, black, red, pink, nude, or white included MAT settings, or change the object material color manually in your render settings to any color you desire. The meshes are light, yet detailed – so you can also remove the lace transparencies entirely for a solid cotton look that renders lightning fast.
INCLUDES:
*custom 'Pushup' chest morph for a supported cleavage look
*conforming Pushup Bra and Laced Tanga lingerie
*smart-propped Thong and Leather Sandals
*High-Res Transparency, Bump and Specularity mapping
*5 different color starter MATs
*an infinite amount of manual color possibilities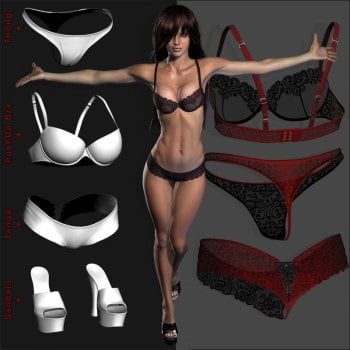 ---