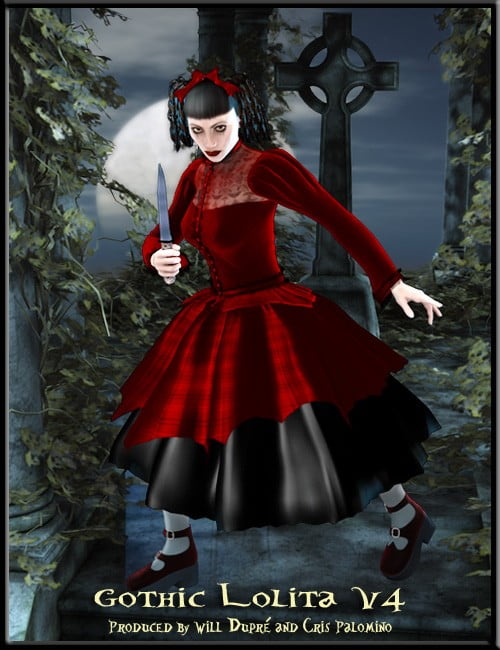 We know the sequel you really want! YES! She's back, she's bad and this time….your favorite little homicidal maniac is taller as GOTHIC LOLITA V4!
She's added to her ensemble of deadly virtues, and made sure that she and her evil little sisters Aiko 4 and Girl 4, are all DRESSED TO KILL!. In addition to the JACKET, knee-length-multilayered SKIRT, STOCKINGS and platform MARY-JANES, Lolita has set of lacy PANTALOONS and some GOTH LOLITA LEGGINGS for a different look. Of course, the oh-so-disarming trademark paper-curl pigtail HAIR, BOWS and CAP are back as well, along with her PARASOL and PURSE. Watch the KNIFE though! You never know what mischief she can get up to with that!
Her textures come in two MIX'n'MATCH styles in classic deep-as-blood red and chillingly dark-as-night black. Don't just change the skirts! Mix up those skirt parts and use only one or two with the pantaloons. The jacket features a new fit morph to close the gap when wearing with just the pantaloons and the skirt will still splay out with a sit morph. Lolita can also now wear her bangs with a bit more styling with the widow's peak, longer bangs and side and a crooked morph for just a touch of ragging!
And for those of you who missed the original, Check out our DOUBLE-FEATURE-GOODNESS with a deal to die for…the original A3 Gothic Lolita set paired with this sequel for doubly good mayhem fun! Both texture sets fit either deadly Lolita!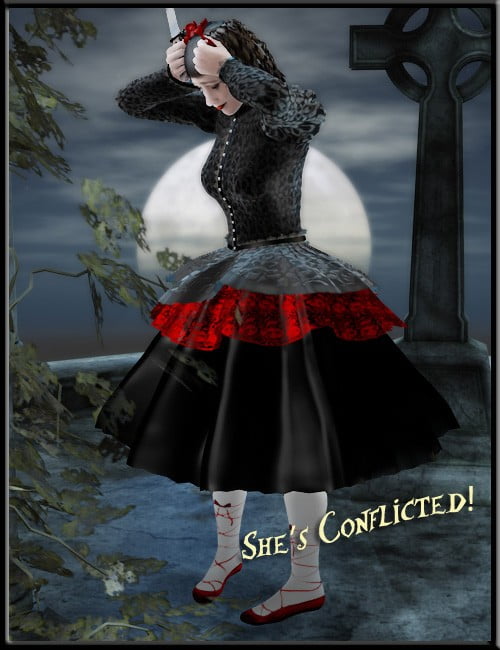 ---