Hard Liquor for Mistress Malefica Hair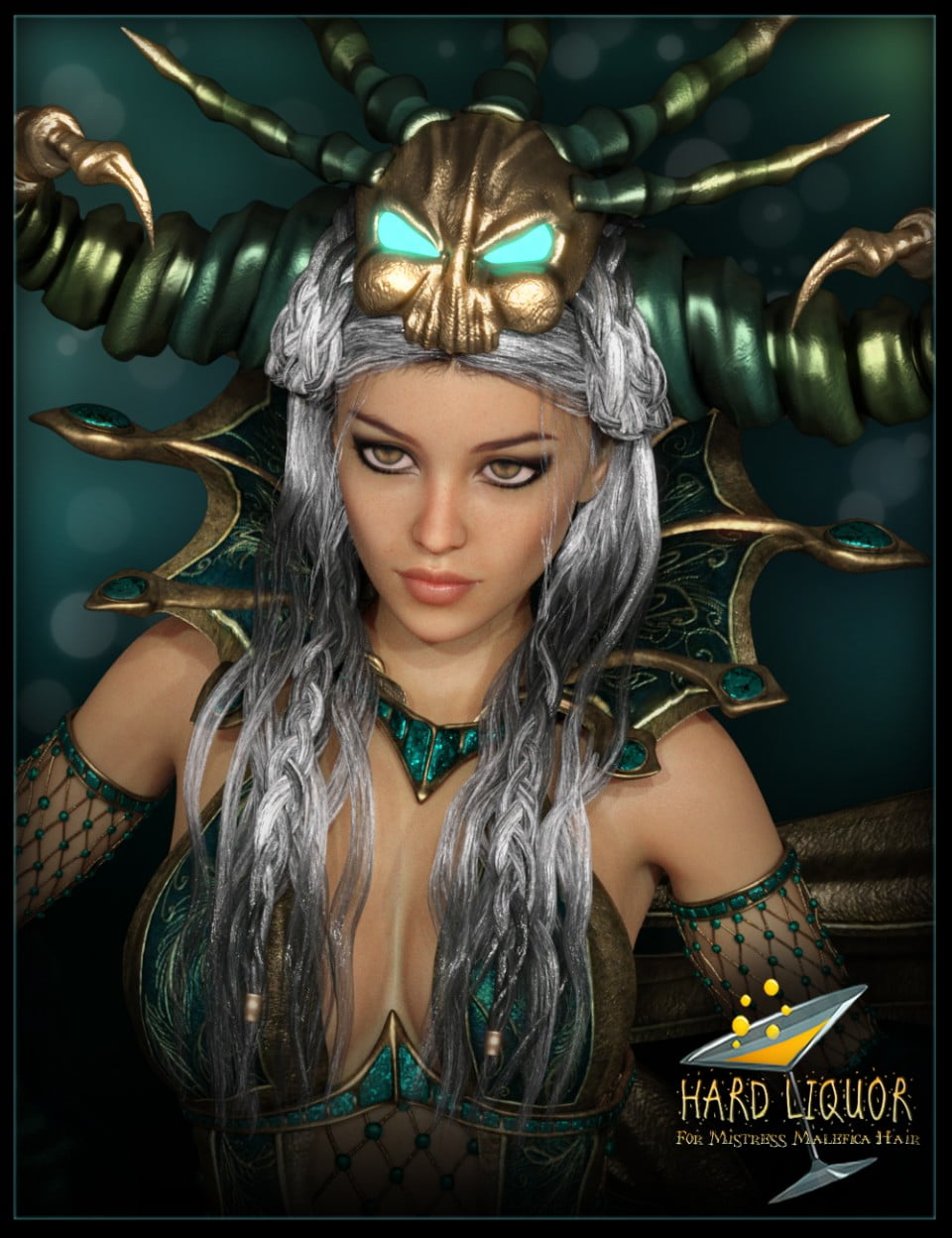 ---
⟣ Hard Liquor for Mistress Malefica Hair ⟢
Hard Liquor is a hair texture set with a kick! It's not "just your ordinary" texture add-on.
This set includes 40 brand new textures for Mistress Malefica hair, in every color you can imagine (each named and colored akin to certain types of alcoholic drinks) But these textures are more solid than the textures in the main set, which gives you a happy balance of both striped and solid, all told.
It also includes new materials for the headdress as well, which give the skull glowing eyes (instead of jeweled) as well as new Headdress materials which are multicolored, but different than the base set.
But it doesn't stop there. Also included is a hair decoration system. Much like the Beaded Bun holder and Circlet decorations in the base set, Ive gone ahead and made several new decorations in this set, so you can switch them up at will. Choose from a total of 7 different designs in all, each which boast a spirit animal symbolic of the 7 deadly sins (and each design has a matching bun holder and circlet in the set) There is a Spider for Sloth, a Snake for Envy, a Scorpion for Wrath, a Vixen for Lust, a Peacock for Pride, a Locust for Gluttony and a Dragon for Greed.
These circlets and bun holders all load separate from one another, you can load a partial or full set or mix them up how you want. The bun holders conform to the hair itself (so it must be selected before loading these) The circlets conform to Genesis as any regular conformer would (this is so you can use them with other hairstyles) and have fit to genesis morphs (where necessary) or float to hair morphs (rising the circlet atop of the hair, but still tucked below the buns) All the decorations come with matching textures to the Mistress Malefica outfit (and these are also mix and match – load any metal with any color gem or bead)
With all these options combined, you can really extend how the Mistress Malefica hair looks in multiple ways, adding even more kitbashability to the original hair.
So what's your poison?
What's Included and Features
Hard Liquor for Mistress Malefica Hair (.DUF)
Locust Circlet
Expand All
Fit To Hair
Back L Side Out
Back R Side Out
Front L Side Out
Front Mid Out
Front R Side Out
L Side Out
R Side Out
Locust Bun Holder
Expand All
Peacock Circlet
Expand All
Fit To Hair
Fit To Headdress
Back L Side Out
Back R Side Out
Front L Side Out
Front Mid Out
Front R Side Out
L Side Out
R Side Out
Peacock Bun Holder
Expand All
Scorpion Circlet
Expand All
Fit To Headdress
Front L Side Out
Front Out
Front R Side Out
L Side Out
R Side Out
Back L Side Out
Back R Side Out
Scorpion Bun Holder
Expand All
Snake Circlet
Expand All
Fit To Hair
Back Center Out
Back L Side Out
Back Out
Back R Side Out
Front L Side Out
Front Mid Out
Front R Side Out
L Side Out
R Side Out
Snake Bun Holder
Expand All
Spider Circlet
Expand All
Fit To Genesis
Back L Side Out
Back Mid Out
Back R Side Out
Front L Side Out
Front Mid Out
Front R Side Out
L Side Out
R Side Out
Spider Bun Holder
Expand All
Vixen Circlet
Expand All
Fit To Hair
Back L Side Out
Back Mid Out
Back R Side Out
Front L Side Out
Front Mid Out
Front R Side Out
L Side Out
R Side Out
Vixen Bun Holder
Expand All
Wyvern Circlet
Expand All
Fit To Hair
Back L Side Out
Back Mid Out
Back R Side Out
Front L Side Out
Front Mid Out
Front R Side Out
L Side Out
R Side Out
Wyvern Bun Holder
Expand All
Morphs Supported
Aiko 8
Girl 8
Stephanie 8
Tasha 8
Sydney 8
Zelara 8
Mei Lin 8
Monique 8
Latonya 8
Mabel 8
Victoria 8
Penny 8
Mika 8
Alexandra 8
Charlotte 8
Eva 8
Gia 8
Olympia 8
Edie 8
Other Shapes supported in Daz Studio by Auto-follow
Material Options
Headdress Materials
Wrath
Lust
Green
Envy
Gluttony
Sloth
Pride
Circlets & Bun Holders – Gem & Bead Options
Red
Black
Yellow
Green
Blue
Purple
Teal
Circlets & Bun Holders – Metal Options
Bronze
Brass
Copper
Gold
Platinum
Pewter
Silver
Hair Materials
Red Hair
Bloody Mary
Campari
Rum Runner
Sangria
Sea Breeze
Brown Hair
Bermuda Highball
Black Russian
Kahlua
Southern Comfort
Velvet Hammer
Black Hair
Black Magic
Black Opal
Blavod
SenceNManors
Vodka Summer
Purple Hair
Cointreau Teese
Purple Harmonie
Purple Rain
Razzarita
Velvet Kiss
Blue Hair
Aquatini
Blue Crush
Blue Curacao
Blue Lagoon
Hpnotiq
Green Hair
Absinthe
Green Demon
Margarita
Midori
SoCo & Lime
Blonde Hair
Livorno Sour
Mojito
Screwdriver
Tequila
Vodka Kick
White Hair
Basiado
Casablanca
Irish Cream
Minilla
Pina Colada
Textures Include:
58 Texture, Bump, Specular and Transparency Maps (2048 x 2048 up to 4000 x 4000)
Texture Templates available through the Product Library
Daz Studio Iray Material Presets
Daz Studio 3Delight Material Presets
---
---