Heavens Gate- 20 ALL NEW LIGHTING / SKY ENVIRONMENTS / TERRADOME
HEAVENS GATE – 20 BRAND NEW SKIES/LIGHTS/5 BRAND NEW SKY/LIGHT PRESETS – AND FOUR COLOR/INTENSITY SHIFTS COMPLETE WITH VERY SAME EASY TO LOAD PRESETS For EACH INDIVIDUAL SKY – This Product IS ALL NEW!
Features:
The Highest Resolution Panoramic digitally photographed skies available.
FIVE BRAND NEW NEVER BEFORE SEEN SKIES
Four Additional sky changes that drastically alter the environment/lighting/mood of each render
A never before seen "dusk to night" sky that is a dramatic enhancement to the versatililty of TerraDome SkyDome.
Range of colors can be very subtle, to intense and very dramatic.
Product Includes:
Five brand new skies with easy to load light presets
Four additional presets for each sky that include sky color changes to enhance and embue each sky, with its own IBL.
EASY TO LOAD PYTHON SCRIPTING BY SHADERWORKS
20 IBLS TOTAL
One or more textures on this 3D model have been created with images from CGTextures.com. These images may not be redistributed by default, please visit www.cgtextures.com for more information.
Poser 7, 8 Poser Pro/Poser Pro 2010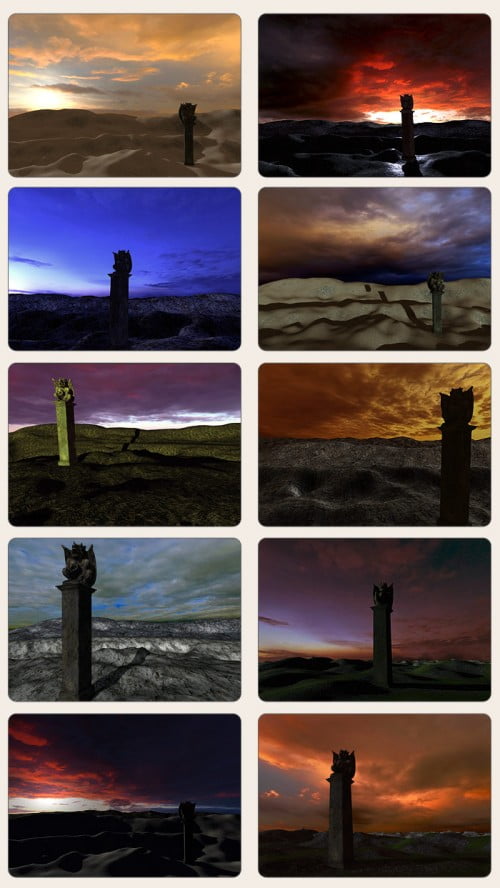 ---