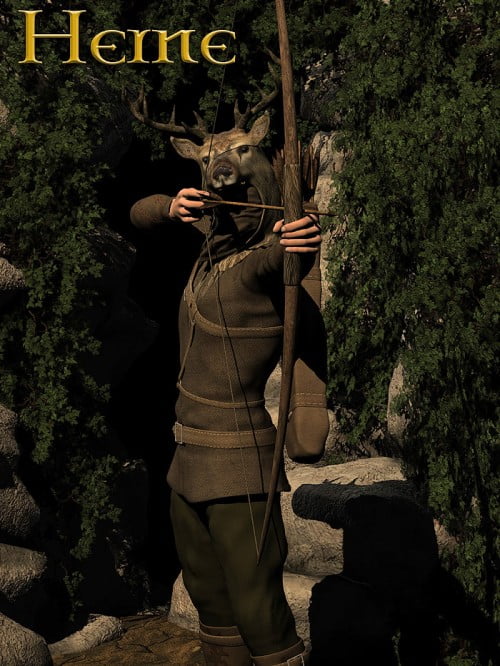 "There is an old tale goes that Herne the Hunter,
Some time a keeper here in Windsor Forest,
Doth all the winter-time, at still midnight,
Walk round about an oak, with great ragg'd horns;
And there he blasts the tree, and takes the cattle,
And makes milch-kine yield blood, and shakes a chain
In a most hideous and dreadful manner.
You have heard of such a spirit, and well you know
The superstitious idle-headed eld
Receiv'd, and did deliver to our age,
This tale of Herne the Hunter for a truth."
~Shakespeare.
Although Herne is seen as an aspect of Cernunnos, the Horned God, in the Berkshire region of England there is actually a story behind the legend. According to folklore, Herne was a huntsman employed by King Richard II. In one version of the story, other men became jealous of his status and accused him of poaching on the King's land. Falsely charged with treason, Herne became an outcast among his former friends. Finally, in despair, he hung himself from an oak tree which later became known as Herne's Oak.
In another variation of the legend, Herne was fatally wounded while saving King Richard from a charging stag. He was miraculously cured by a magician who tied the antlers of the dead stag to Herne's head. As payment for bringing him back to life, the magician claimed Herne's skill in forestry. Doomed to live without his beloved hunt, Herne fled to the forest, and hanged himself, again from the oak tree. However, every night he rides once more leading a spectral hunt, chasing the game of Windsor Forest.
Features:
-Unique and distinct styled design
-High quality mesh and textures
-9 Clothing items
-87 MAT poses
-Full Body Morphs in all items: BodyBuilder, Bulk, Emaciated, Superhero, Thin
-Adjustment and style morphs
-Morphing Longbow smart props
-2 Longbow variants
-Archer pose
-Texture templates
Product Includes:
-9 cr2 conforming clothes figures
-2 pp2 Longbow props
-8 Belt MAT poses
-8 Boots MAT poses
-8 Bracers MAT poses
-10 Facemask MAT poses
-8 Harness MAT poses
-7 Quiver MAT poses
-12 Assorted Arrow MAT poses
-6 Staghelm MAT poses
-8 Trousers MAT poses
-12 Tunic MAT poses
-2 Longbow smart props (With and without arrow)
-1 Archer pose
-Texture Templates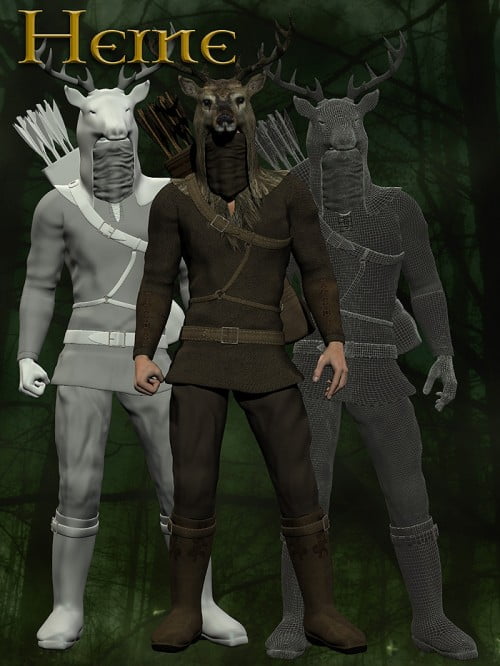 ---