HFS – MoreThanHuman for Victoria 4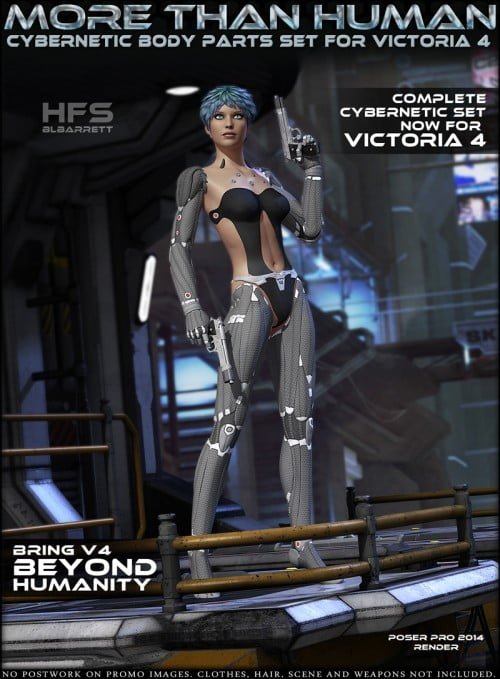 "More Than Human" is a set of cybernetic bodyparts and accessories for Victoria 4.
Each part is carefully modeled and uv-mapped. All parts are covered by a single uv template,
and come with 5 base texture styles in Poser, and 4 base texture styles for Daz Studio.
Also included are 15 Cybernetic Eyeball Materials presets for both Poser & Daz Studio.
The set contains:
7 conforming figures:
– Right and left cybernetic leg
– Right and left cybernetic arm
– Cybernetic spine
– Cybernetic chest
– Cybernetic ears
3 smart props:
– Cybernetic Ears
– Cybernetic Lens Left
– Cybernetic Lens Right
5 complete texture styles PS.
– main textures are 4096 x 4096
4 complete texture styles DS.
12 Victoria 4 Hide / Show body part poses
15 Cybernetic Eye texture styles
– textures are 2048×2048
1 Template that covers all parts
10 Victoria 4 Morph Fit INJ poses
– dial to preference ( 1.00 max) to activate after loading.
– located – bottom of the dials under community section.
10 Victoria 4 Morph Fit REM poses
6 Body figures include FBM's for:
(V4's CyEars figure only conforms to base V4 or any face
morph that does not change the position of the ears)
V4 Morphs++: (All body morphs)
V4 Elite: (All body morphs)
Aiko4: (All body morphs)
Stephanie 4: (All body morphs)
V4 Muscles: (All body morphs)
She
Freak4: (All body morphs)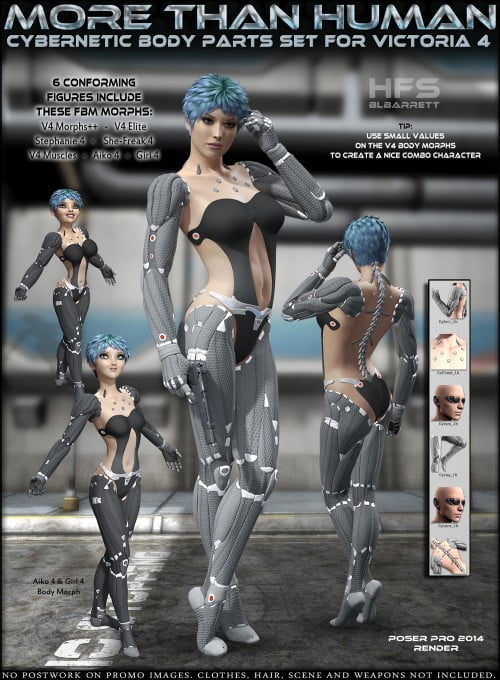 ---