HOT Officer Anita,BountyHunter V4,G4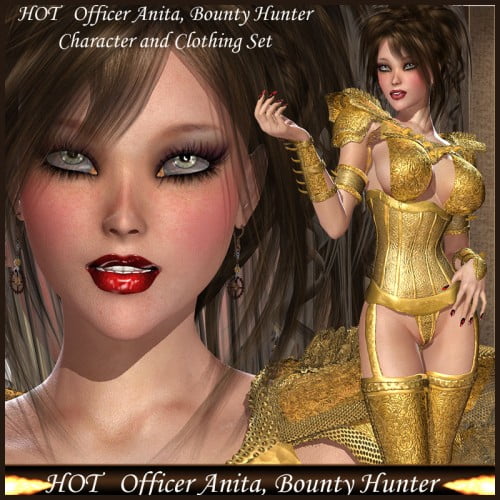 HOT Anita, BountyHunter is a beautiful detailed character and clothing set for V4.2 and G4.
Her custom head is designed with both Daz morphs and custom ZBrush morphs to give her a unique look.
I have included 2 Officer Anita faces and body shapes. One for V4.2 with Aiko morphs and a G4 version.
Detailed displacement skin and genital maps enhance her beauty.
QUALITY! HOT Officer Anita,BountyHunter V4,G4 Clothing:
This clothing is designed to take advantage of tiling materials and shaders.
The utmost attention was given to the modeling details to showcase the benefits of tiling materials.
This will make it easy for you to design in the material room your own textures.
I have used primarily materials from parrotdolphin and added some detailed ZBrush bump and displacement maps
of my own design.
I highly recommend any of the material resources from parrotdolphin
Check out render on the promo page showing showing the modeled material zones..
? HOT Officer Anita, BountyHunter V4,G4 includes:
V4 HOT HOT Officer Anita Character
G4-HOT SHOT Officer Anita Head INJ-ReM
V4 HOT Officer Anita Body INJ-ReM
G4 HOT Officer Anita Body INJ-ReM
Officer Anita character:
AnitaHead and body textures
8 makeup options
8 eyecolor options
Detailed displacement maps for skin.
Bounty Hunter Clothing:
cr2
BH Armbands
BH V4 Collar
BH G4 Collar
BH Corset
BH Gauntlets
BH Leggins
BH Shoulder Guards
Hair Prop
Hood
Prop
Glasses
9 Complete Texture sets for the clothing
including detailed bump and displacement maps
DAZ STUDIO USERS:I do not offer support for Daz Studio.
---