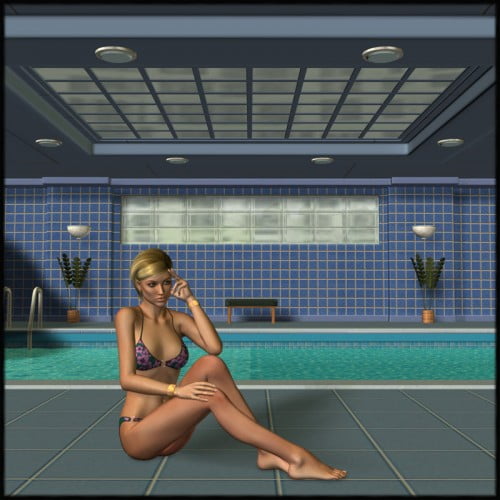 The doors rotate open from their hinge
areas with a normal Y-Rotation. Several accessory props are provided to add some
extra accents to your scene.
The Indoor Pool II Set also includes seven camera presets and a lighting preset
that make it easy to move around the room and set up your scenes. Efficient and
functional the Indoor Pool Set is easy to use and a real value for the price.
It will perform well for any of your poolside renders!
The Indoor Pool II Set comes with everything you need to create inviting indoor
swimming scenes and includes the following props:
!!Complete Set
!SP-Base
!SP-Ceiling
!SP-DoorL
!SP-DoorR
!SP-F_Wall
SP-Bench
SP-C_Table
SP-Ladder
SP-Planter
Everything comes as Poser Ready props that can be loaded from the category menu
or for even easier use – just load the included PZ3 file which has all of the
props loaded with a default lighting and camera scheme.
The Indoor Pool II Set also comes with all the texture templates to allow
you to give the room elements a custom look of your own design.
You will need Poser 5 (or higher) or Daz Studio to use these props.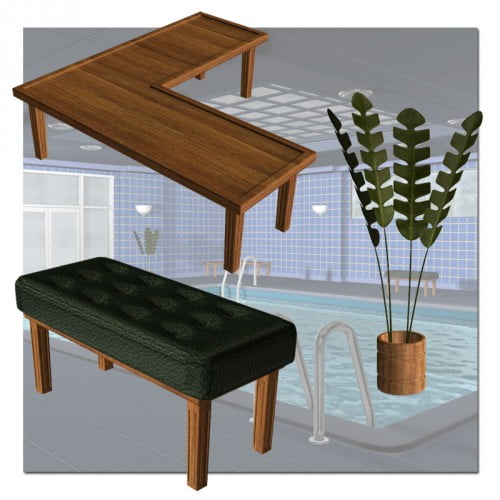 ---