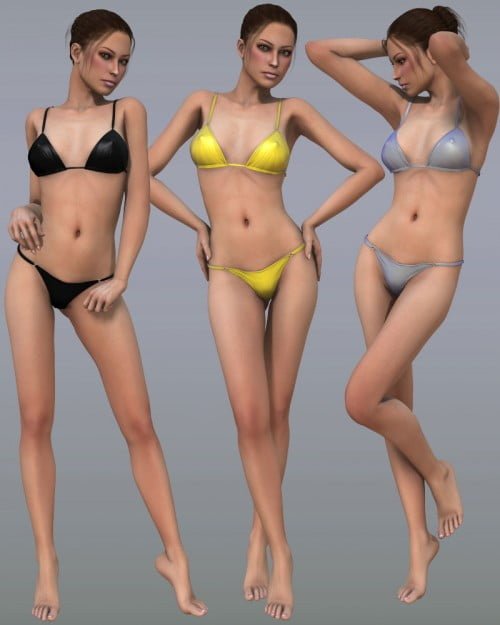 This product was tested in Poser 6&7 and DAZ Studio on PC,not tested on Mac.
All of the morph change automaticlly with V4 body change.
If there exist a victoria4 figure.Select V4 before load each clothes in your scene.
Auto morph don't work sometime(Poser),if happen,delete and load again.
Auto morph don't work in DS.
Complete list of morphs
Bra Panty
[FitMorph]
Aiko4
The Girl4(Body)
[Full Body Morphs]
Amazon
BodyBuilder
Bulk
Fitness
PearFigure
Voluptuous
Young
[Breast]
BreastsCleavage
CleavageWidth
BreastsDiameter
BreastsDroop
Breasts Flatten
Breasts Hang Forward
Breasts Implant
Breasts Large
Breasts Natural
Breasts Perk
Breasts Size
[adjustment morph]
Neck_StrapBig
StrapDownFront_Bend
StrapDownBack_Bend
StrapUpBack_Bend
StrapUpFront_Bend
lStrapUp_Big
lStrapFront_Bend
lStrapUp_Bend
lStrapDown_Bend
lStrapBack_Bend
lStrapSide_Big
lStrapUp_Side
lBreast_Side-Side
lBreast_UpDown
lBreast_Big
rStrapUp_Big
rStrapFront_Bend
rStrapUp_Bend
rStrapDown_Bend
rStrapBack_Bend
rStrapSide_Big
rStrapUp_Side
rBreast_Side-Side
rBreast_UpDown
rBreast_Big
[Movement Morph]
straps_side
bra_Thin1
bra_Thin2
breast_side
straps_side_L
breast_side_L
straps_side_R
breast_side_R
[FitMorph]
Aiko4
The Girl4(Body)
[Full Body Morphs]
Amazon
BodyBuilder
Bulk
Fitness
PearFigure
Voluptuous
Young
[Movement Morph]
hip_thin
hip_Front
straps_back
straps_side
straps_side_L
straps_back_L
hip_Front_L
straps_side_R
straps_back_R
---