Jasmine is a photorealistic ethnical character package for Victoria 4.
Ultra detailed textures, bump and displacement maps.
Jasmine has her own material system that adds a realistic shimmer and ambient occlusion to skin and eyes to help you to get the most out of the newest generation of Victoria.
Included is an interesting new way to apply makeup, rather then multiple makeup maps that just take up a lot of room and have a limited range to choose from.
Partial MAT + Blending technologies offers you an incredible variations of makeups!
Another new technology is Sparks Effect in Eyeshadows and NailPolish.
Content:
1 Headtexture – 3000 x 3000
6 Makeups – 3000 x 3000
1 Bodytexture – 3000 x 3000
7 Eyetextures
1 Lashes Transparency
1 Mouthtexture
Bump, Displacement and Specular Maps.
Head – & Body-MORPH ( INJ + REM)
Lot of MATs included:
5 EyeShadow forms
5 Lashes Ink masks
6 Lip Colors
6 Rouge Colors
5 Sparks Colors of Lips and EyeShadows
6 NailPolish Colors
4 Sparks Colors for Nails
50 EyeShadow Colors
Some MAT's to change glossiness and transparency for Nails, Lips, EyeShadows…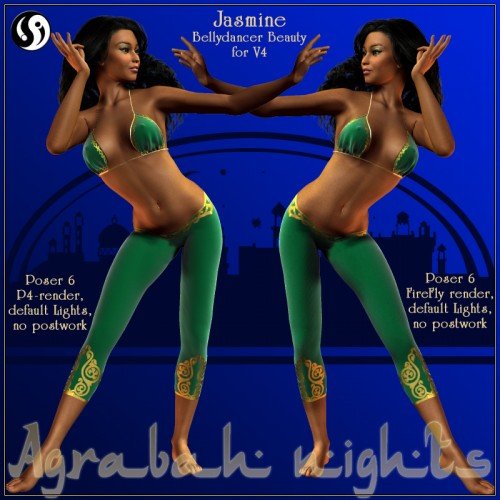 ---