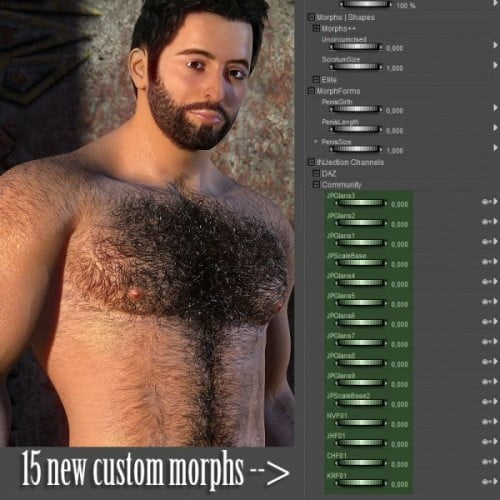 You can choose between 4 different displacement veins and 2 different kind of MATs – simple MATs for Poser 6++/DS3+++ or Subsurface Scattering MATs for Poser 9/Poser Pro 2012 and DS4/DS4.5.
Now what this pack makes so interesting are my custom glans and base shaping morphs applicable via INJ/REM Poses (you can find the Morphs in the Community Channels of the M4 Gens Figure's Body).
Beside 6 shaping morphs for giving the M4 Gen Figure a whole and completely new and different look, I also have added 4 custom complete morphs inspired by some well known adult film stars.
Well, keep in mind, the mesh density of the M4 Gen Figure is limited, so don't expect an exact copy look alike, but I've tried to come as close as possible. You can apply the shapes with the last 4 of the 9 Sample MOR Poses. These Sample poses scale the genital figure to a size of 120% to give the Gens the right proportion. Be aware of that they don't work when the M4 Gen Figure is conformed (Poser) or fitted (DAZ Studio) to M4 or any other main figure. The M4 Gen Figure must be parented to the hip of the figure to have the right look. Please read the instructions "how to" in this Readme file!
Note: This product replaces all former versions of Jepe's M4 Real Gens products and is not a free update.
System Requirements:
Poser 6++ and/or DAZ Studio 3++
Poser 9 SR3/Poser Por 2012 SR3/DAZ Studio 4 or DAZ Studio 4.5
Needed Files:
M4 Gen Figure available via DAZ3D.com (M4 Morphs++ Package)
Updated: September 12, 2012, (file correction of CRC-error of "8_JP_M4_RealGensTrans2" corrected using 7zip technology.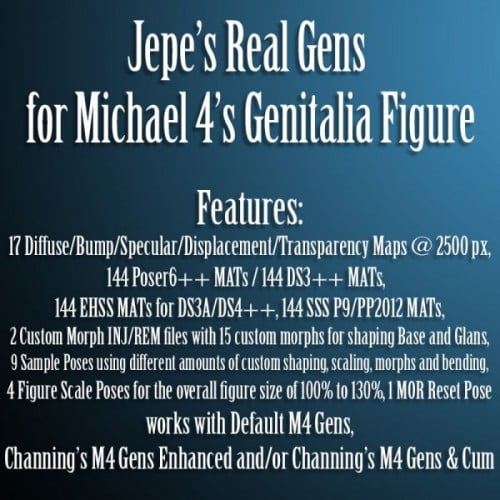 ---