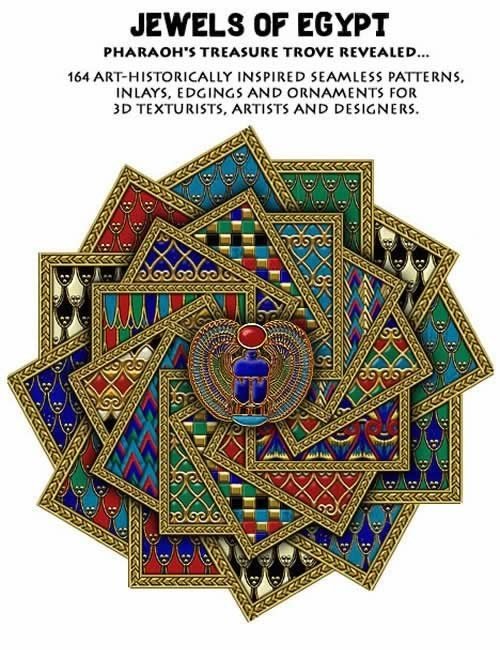 Created based on authentic art-historical reference materials, the 164 richly detailed graphic elements which comprise Jewels Of Egypt will convert your textures, artwork and designs into veritable Ancient Masterpieces!
The extraordinarily intricate set of textures and patterns are seamless, and are therefore perfectly adapted to 3d texturing – the purpose for which they were originally created – as well as for a multitude of other art and design uses, such as web site design, digital art, and dozens of other graphic applications.
The decorative inlaid ornaments based on real Egyptian pieces are in PSD (Photoshop) format, ready to be added to your designs.For designers and digital artists who make use of Corel Painter's (versions 6 and above) excellent Pattern Pen tools in texturing and design, this set of texture tools includes 3 Pen Pattern libraries with many of the edgings and ornaments ready for use with Painter's Pattern and Masked Pattern Pens.
The bonus seamless gemstone fill textures are for the four stones most beloved by ancient Egyptians: orange/red carnelian, turquoise, pyrite flecked lapis lazuli and intensely green chrysoprase, a form of jasper.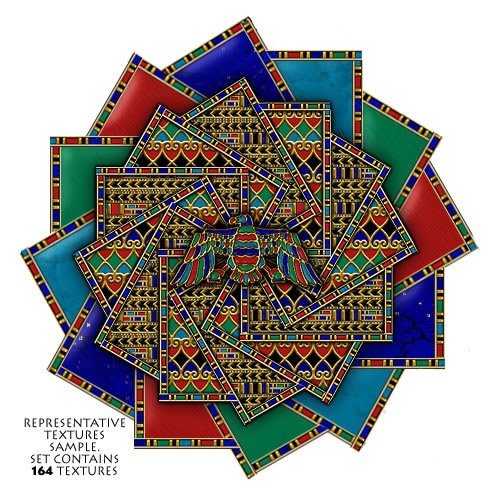 ---