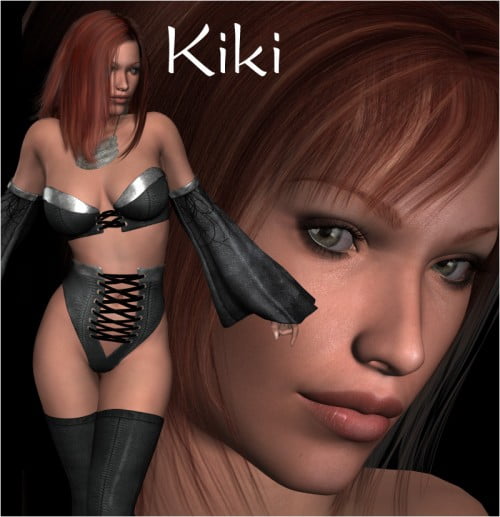 Kiki is a saucy new redhead and she will steal your heart away with her sexy, fitacious style.
Usage Tips or Limitations:
— This package was tested in Poser 6, Poser 7, and PoserPro. It has NOT been tested in Daz Studio.
— All clothing items will automatically follow the morphs of the Victora 4 figure (please
see the included morphs list). There are also special movement morphs for the sleeves
and leggings.
— In order to protect the integrity and shape of the necklace, no character morphs are included
in the necklace, however, it has special morphs included so that after conforming, you can fit
it to any figure quite easily.
— Make certain to have the V4 body chosen prior to loading each of the clothing items, otherwise
the auto-morphing function will not work.
— Make sure to "magnetize" the bra and stocking in order to get the best fit and
avoid poke-thrus in many poses. You can do this by choosing the clothing item, go to Pose >
Daz's Victora 4 > Magnetize Clothing … then apply the "!Magnetize to V4" to the
bra and the stocking.
— Kiki's makeup files are provided in two different formats. Makeup, and Makeup +Plus. Mat pose
thumbnails without the "+" logo will apply eye makeup and blush on Kiki's natural facial skin. Mat
pose thumbnails with the "+" logo, will apply eye makeup and blush plus a makeup foundation that
conceals blemishes and evens out the skintone of the face, just as real world makeup foundation
actually does.
— Kiki's skin textures were created with high resolution photographs for the ultimate in realism and
beauty. Her package also includes skin shaders and specular maps in order to enhance her skin
texture and provide even more realism. There are mat poses to apply textures and makeup with
or without the shaders.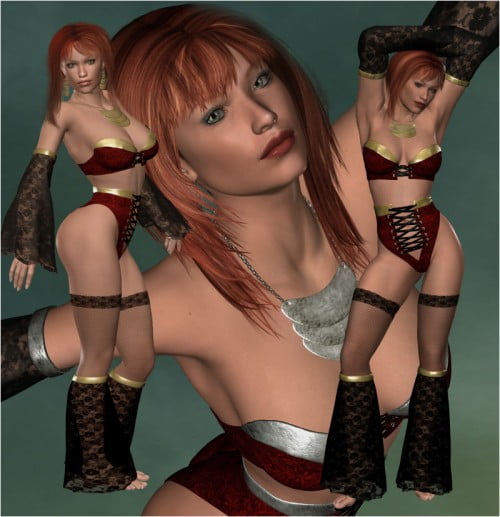 ---