Leon is the professional character created on the basis of Michael 4 from Daz3D.
The main advantages and features of a package:
– 11 INJ-bundles of new original morphs and the convenient menu in a bookmark "Body".
7 ready human feelings and emotions, 4 auxiliary modifications.
– Own hair.
– Own pistol. Three modifications. (Compatible with M4base character).
– Own glasses. (Compatible with M4base character).
– 86 qualitative maps and textures (including genitals). Full displacement for all body parts. Realistic venous system.
– MAT-poses and MAT-collections are executed taking into account a difference in posibilities of versions of program Poser.
– Own HDR-illumination. Two variants.
– The new effective multilevel method of a configuration of materials for visualization of a human skin. Is developed specially for this model.
UPDATE.zip corrects small misunderstanding at work with version P6 or above
DazStudio – the product is compatible, but look at the ReadMe File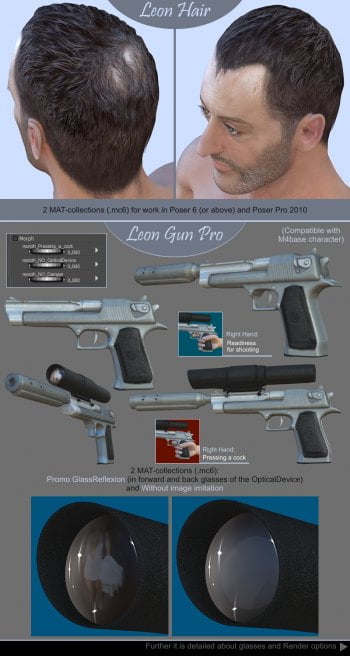 ---