Westerns, Actions, Police, Survivor Scenes… The Lever Action Rifle Pro will be a must-have for those dramatic situations.
Create and use your Lever Action Rifle like never before! With Lever Action Rifle Pro, you don't have just one Rifle, but hundreds of Lever Action Rifles. You will find a toolbox full of shaders, morphs, shapes presets and Rifle pose presets, as well as poses for Michael 6 with the Rifle.
Designed and textured to be realistic, it includes mobile parts as in a real Rifle, and is widely poseable, morphable and customizable. Many texture options coming as hierarchical material presets and as individual shaders will help you to reach the exact Rifle you need for your scene. Thanks to the use of these shaders, you will be able to choose any of the surfaces included in this weapon and apply the exact material you choose for it whether it is one of the generic metal or wood shaders, or a more accurate shader designed for the specific parts of the weapon. Just select the surfaces you want to modify and apply the shader you want.
Looking for even more? Most of the shaders give you access to the specular roughness of the surface for excellent fine tuning of the specular properties!
Want to go fast? Then use one of the nine full hierarchical materials presets and six shaping presets to make your Rifle look like what you imagined it. You can also load one of the Rifle pose presets in order to have the Rifle posed lever opened, pulling the trigger, cocking the hammer. Once done, use the included pose to send it right in Michael 6's Right Hand, parent it, and chose one of the sixteen pairs of poses for Michael 6 and the Rifle and get ready to render!
Want to fully customize it?
Then you'll be happy to find 43 organized dials in order to define very precisely the shape of it.
Find the exact look you want, with 5 wood bases with 6 different shaders each, with 4 General metal shaders which can be applied on any metal material of the Rifle, complimented by additional shaders specifically developed for each surfaces of the Rifle.
5 more for the lever, 4 for the other metallic parts (hammer, trigger, loading gate, carrier), 4 for the tubes parts (tubes, rear sight and elevator, cartridge guide, front sight hood and ramp, rear band and ring barrel…), 6 for the Butt Plate, and 4 for the Butt Plate Screws, 4 for the receiver and 3 for the receiver screws.
With Lever Action Rifle Pro you'll definitively be equipped to fight bad guys, zombies, buffalo's, and invaders of any kind!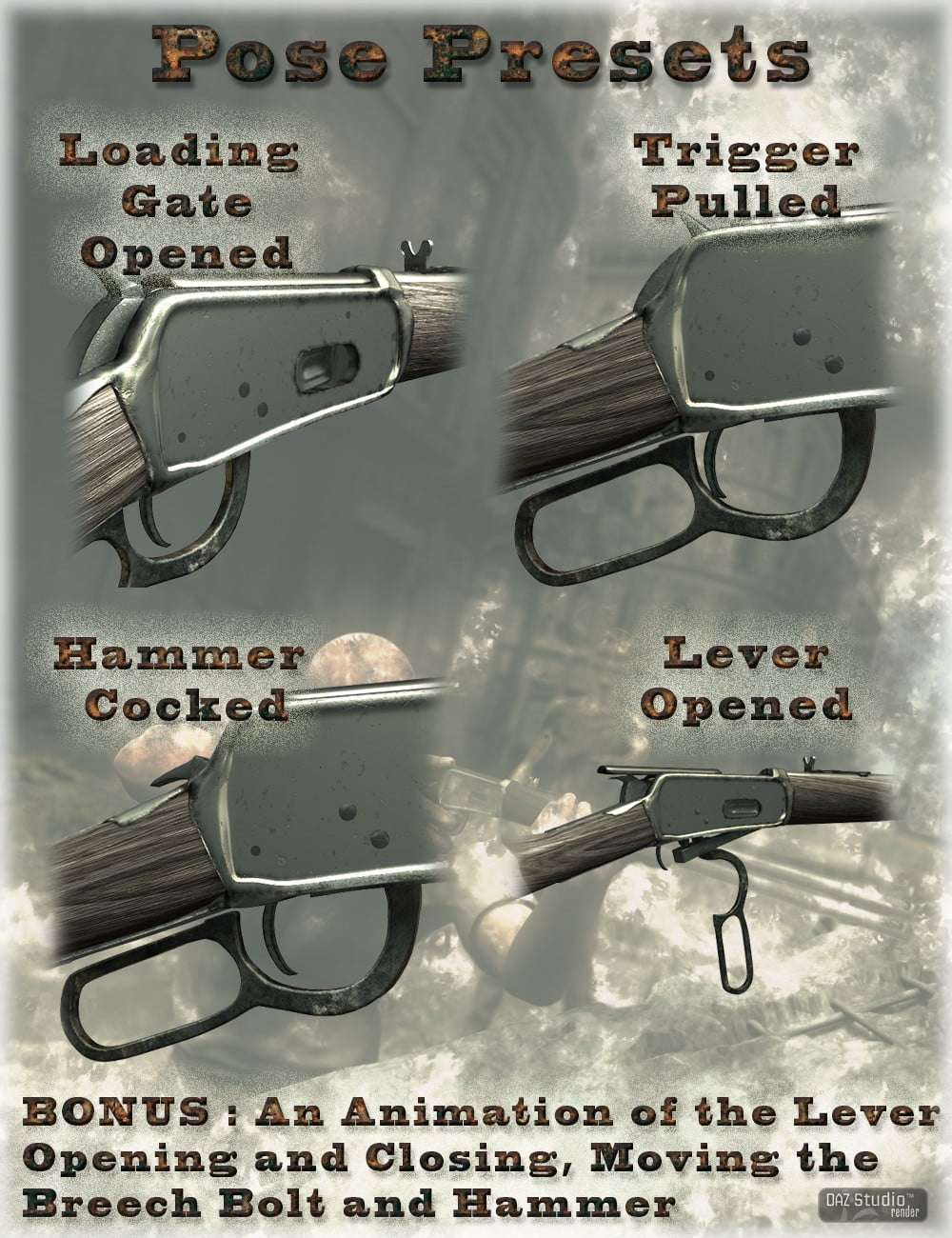 ---