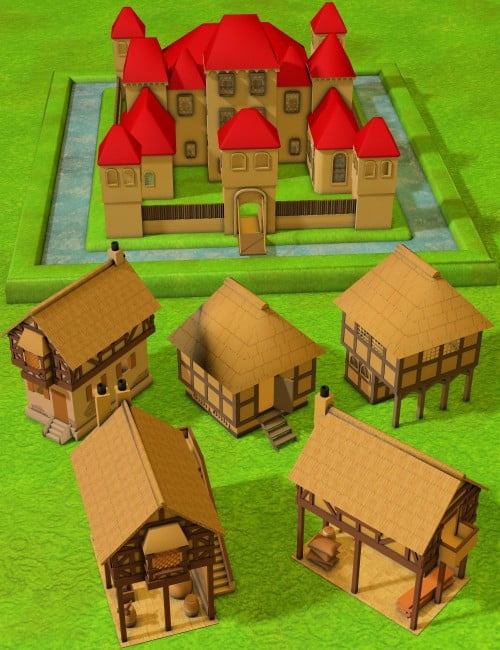 One of my latest and also my largest project ever…. I've been contemplating creating a medieval town for a long time, but never did so…. finally I've begun to realize it.
In this bundle, you'll find these buildings: a medieval house, blacksmith's workshop, medieval storehouse, medieval guildhall and a workshop. The guildhall can also be used as a tavern, town hall or even a prison.
The workshop is a bonus building that I concluded the series with. You decide what's being built here, and whatever you pick, the ToonGen and other toon figures will love to work in this place. The workshop has opening doors, a shutter to access the floor above the workspace and a complete interior. I'm sure you will love this great addition for the ToonGen Medieval town.
Then there's the castle. This must be the most complex building I've done so far. The castle is 1 building with 3 variations in windows. With this castle comes an exterior extra prop to make the castle more beautiful, but for renders with lots of items, you can load the simple version of the castle to make it less demanding. There are also interior props – 2 for the great hall, 1 for upstairs, 1 for the towers and one extra bonus treasure prop for the top room of the main tower. There are 2 versions of the treasure prop – the simple one uses no reflection, so it renders a lot faster then the complex one that uses reflection. All of these interior props make the castle complete and a joy to look at and live in.
The next item is a complete moat set. It was chosen by the winner of the 3DToons ToonGen Medieval Render Contest. It can be used to surround the castle, or you can build a small town inside it. All of the items are separate props so you can place the items you need on the moat. There are the moat base, the drawbridge, the towers, the chapel, and a building you can use for whatever you like – prison, stable, storehouse, or anything else. Of course there is a complete surrounding wall, as well as 2 bonus wall items, which allow you to create your own structure. Don't let your ToonGen or other toons live out there unprotected – get them inside this wonderful walled moat!
All of these buildings have separate interiors, making this set complete. Lots of details and high res hand-crafted and photo textures. These are medieval buildings your ToonGen and other figures will love to live and work in.
The items are scaled to fit the Toon Generation, but with some scaling they can be easily used for other figures as well.
Figures, clothes and hair not included. The shown images do not show all there is to this bundle – I've only chosen a number of them to give a good impression of what is in the bundle. The castle alone has 9 rooms, so there is too much to show in a limited number of renders.
What's Included & Features
29 detailed props with exteriors and smartpropped interiors
All buildings have opening doors and closing shutters
Some buildings have a door to access the balcony or opening shutter to access the top floor
Storehouse has an attic
Castle has 3 variations, and has 9 rooms: the hallway, the great hall, the master bed chamber, 5 tower rooms and one hidden room
Bonus treasure prop (2 versions, one for fast rendering and one with reflecting diamonds) that can be placed in the hidden room
4 Detailed interior props complement the castle
Moat base with some props smart propped to it
2 Bonus walls to create your own moat variations or walled towns
Opening doors in the chapel and building, along with an opening gate
Fixed interior for the Chapel and extra smart-propped beams to beautify the inside
High res 1000×1000 to 2500×2500 textures allow close up and far off renders
Mix of handcrafted and photo textures
Material zones for easy re-texturing or re-shading
IBL Town Day Light Set
DAZ Studio compatible with some minor adjustments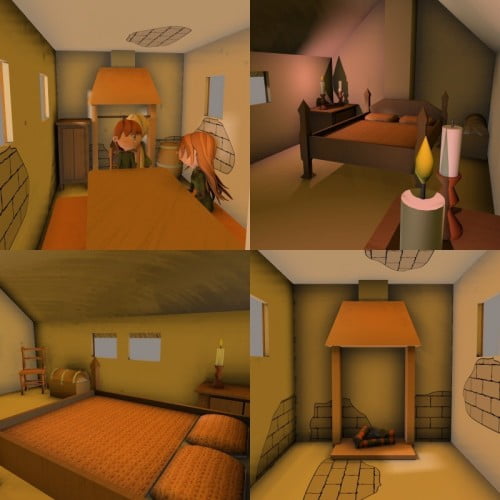 ---