Monsoon's Earthenwear Rocky Rivers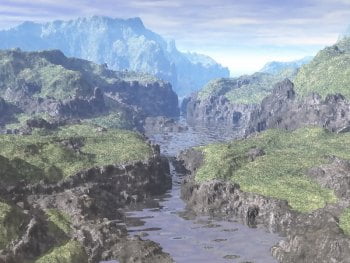 13 grayscale terrain maps for application in any terrain making software.
6 Earthenwear texture maps….3 grassy and 3 rocky.
The grayscales are divided into a, b, and c.
The a is simply a river terrain
The b is the identical terrain with rocks
The c is a sample of rock placement.
HOW TO:
The key to these terrains and this technique is to have the terrain with rocks jut up through the terrain without. Let's use Bryce as an example.
Make a terrain. Apply River 1a to that terrain. Make the scale512. Apply a grassy texture.
Duplicate the terrain.
Apply River 1b to that terrain. Apply a rocky texture.
As you can see there are now boulders and rocks all over your grassy terrain. You can move the rocky terrain down a bit if necessary.
But you don't want rocks everywhere….just along the river banks. In the next step, you can put them anywhere you want.
Open up Photoshop or Paint Shop or any image editor that uses layers.
Open River 1a and River 1b. Copy 1b onto a layer over 1a.
Now erase rocks wherever you don't want them and save your resulting image.
Apply it to your second terrain. Then add a water plane and adjust to taste. Presto! Rocky rivers!!
Now group your terrains together and have fun.
TIPS:
Experiment with height. You can get some nice rocky cliffs if you want.
Experiement with the distance between the rocky and the grassy terrains.
Explore and expand on this idea.
---