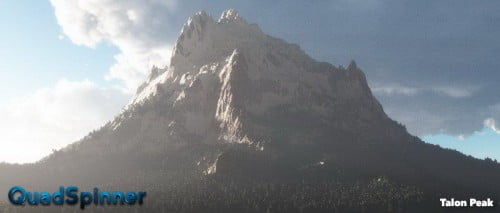 QuadSpinner products are intended to help you create your dream images and tell your stories.
Our terrains are designed for a multiplicity of scenes. Inspired by field research in India, Central America and the US, these terrains will be imbed your scenes with unparalleled realism. Especially when combined with our dramatic Atmospheres and the unique materials in the QuadSpinner Foundry, the possibilities are endless. Fuel your imagination; ignite your portfolio.
Talon Peak – Mighty, majestic, unforgettable. The sheer cliffs and rock face of this towering mountain are home to the eagle's cry.
Dante's Dagger – This prominent mountain chain is highly adaptable. Strong erosion patterns suit both snow and rain-based decay. Think tundra and tropics.
Of Myth & Man ? A series of steep pikes punctuate the rolling plains below. These unique aged formations conjure memories of myth and man.
Mountain Grandeur – High-altitude mountains dominate this landscape. Ideal for the crisp white powder that blankets these surfaces in sub-zero temperatures. A central depression with a soft-eroded flow zone running southwest adds even greater possibilities.
Crowned Crest – Massive sloping mountain formations adorned with erect jagged peaks and ridges. Striking presentation in an arid volcanic setting or covered in snow.
(NOTE: This terrain ships with a free pre-applied material that distributes snow on slopes and flat surfaces, and rock on vertical faces.)
4096×4096 Standard Terrains.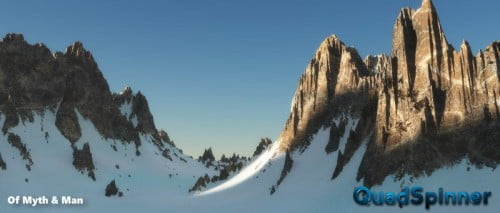 ---