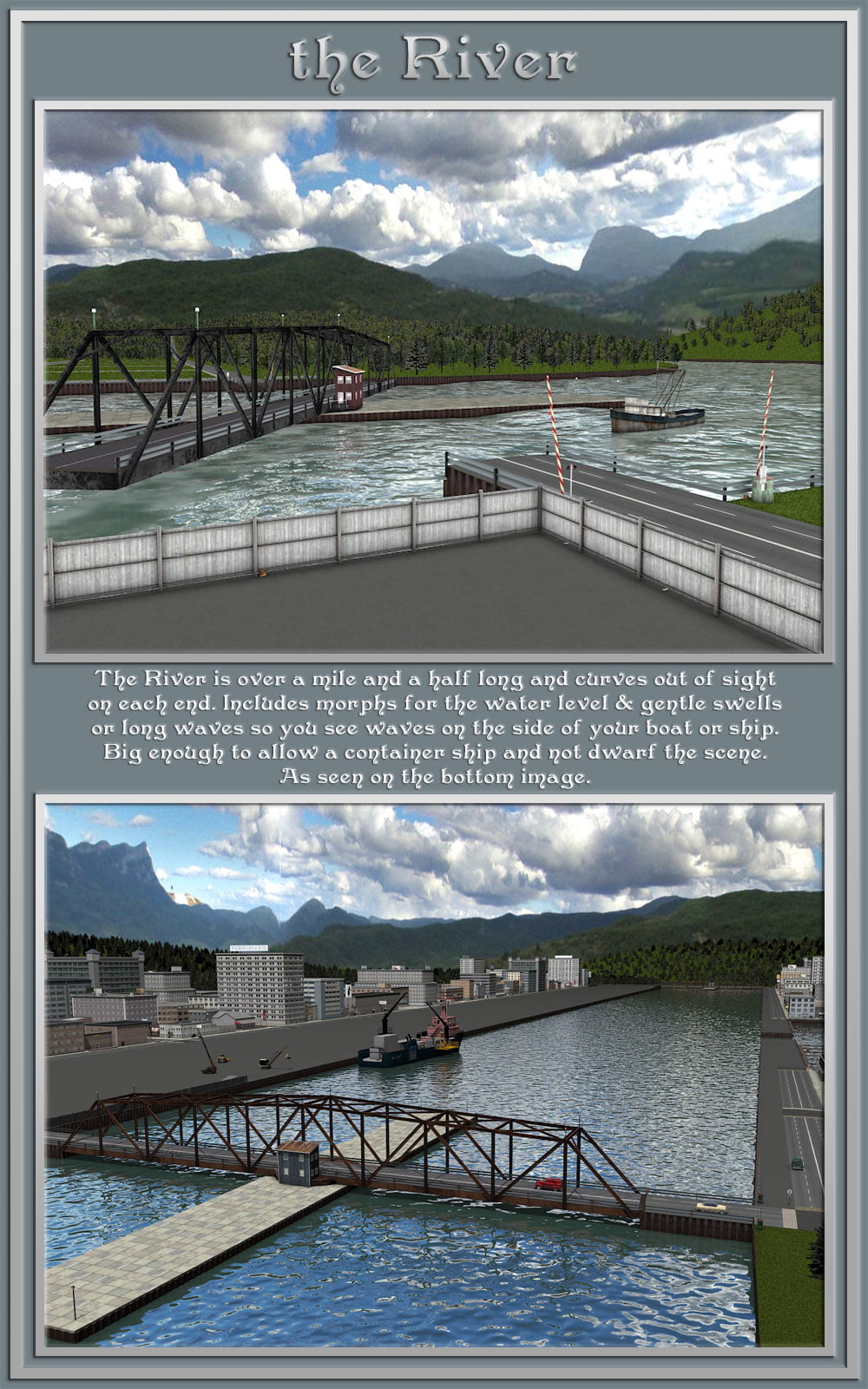 Poser 7+ Introducing the largest product ever built for Poser!
River Front
This product measures a whopping 8,602 feet across. That is 1.63 miles folks!
This product is so intense that I decided to include a Video Tutorial to get you up and running in no time.
Maybe even learn a few other tricks along the way.
The set has a 620′ wide River running through the center of town with a Girder Bridge on each end,
to connect the two sides of the city. Also includes working crossing gates for when the Bridges
are turned to allow the ships to come into the thirteen Block long Wharf or Docks,
textured with a seamless blacktop surface so you are not limited to the City Blocks, square layout.
The Docks are set up to be at ground zero vertically so you can use your other free
standing buildings to create an endless variety of scenes. More Free standing buildings
will be released from Dreamland Models as well. Even have room for those wonderful
Construction Vehicles from POWERAGE as seen in my promos. Man I love his stuff!
Also built a Marina that is three Blocks long and one Block wide right in the middle of town, right off of the River.
Also forgot to mention that the river has may controls for the water level and several morphs
for variations in the water surface so you see actual swells on the side of your boats.
There is room for 101 Low Poly Blocks in this set.
In order to move those City Blocks there is a Block Mover Figure that you can load to move them
to any one of those Block locations by means of a Pose library with 101 precision poses.
Because of the immense size of this set there are 124 Street poses to get you to either end
of all the streets in the set, as well as the other 120 free form poses for this product.
Bagginsbill was kind enough to allow me to use his wonderful Puddle Materials in this set.
For more details on what is included please read the list of objects included below.
Not tested in Daz Studio or any other program.
May not be used in Second Life, or any other online game, for any purpose.
Here is the list of objects included
FIGURES
1 River Front Figure with morphing River.
1 Morph for gentle swells
3 Morphs for smaller controls of the river surface for endless variety.
1 Block Mover with pre attached Road Signs
1 Block Mover with pre attached Power Poles
1 Block Mover with pre attached Road Signs and Power Poles
PROPS
2 Camera planes that load and snap any of the camera in this set. Work only with the Main Camera
2 450′ long Girder Turn Bridges for each end of the river.
1 Sky Dome with 2 material choices
1 Fire Hydrant
1 Outside Grill on a Pole
1 Picnic Table
1 set of Road Signs
1 Power Pole and Power Line System
1 Tree Prop that loads separately in case you are working in tight and don't need them.
All of these items may be saved as separate props for other scenes.
MATERIALS
1 River Front Default to put everything back to factory settings
1 Trees for the same reason
17 Grass Only materials .mc6
12 Property for all the seasons
18 River materials some that have rain drop ripples
2 Sky Dome .mc6
10 Forest or Trees materials .mc6
43 Weather Prop materials including
8 Fog, 20 lighting, 10 Rain, and 5 Snow
You can move them way in the distance if you want a lightning strike to hit the other side of the property.
172 Material Maps includes some bump, displacement, reflection and Alpha maps
LIGHTS and Cameras
120 Free Form Cameras to get you around the set in a hurry.
1 Free Form Camera is set up next to the sky dome so you can see where you are putting your Blocks.
no need to move Cameras to the point of wearing out a mouse. I have you covered.
74 Street Cameras that are pointed down both ends of all the streets.
Even has a map you can print out to tell you where you are.
Also made a separate map that has coordinates to get your stuff where you want to go
by simply typing in your numbers to get stuff in the general area you are working.
Once you are there you can make fine adjustments within your Camera space.
1 All purpose posing light that is a point light with shadows for ease of movement.
I set the speed of the moving dials to 100′ speed so you can get a light where you want it in a hurry!
DETAILS
This Quad Modeled product is only 41,471 Polygons including the 101 Blank City Blocks River and everything.
This low Polygon modeling style, allows plenty of room for lots of other models and figures in your scene.
The trees are a separate prop that is 43.330 polygons
The whole set with the trees loaded is only 84,501 polygons, which is less than most figures like V4.
You probably have shoes in your Poser Library that have more polygons than this set.
All promotional images, completed in Poser
Objects not included in this description are not included, such as people or animals.
Not tested in Daz Studio or any other program.
May not be used in Second Life, or any other online game, for any purpose.
All content by Dreamland Models.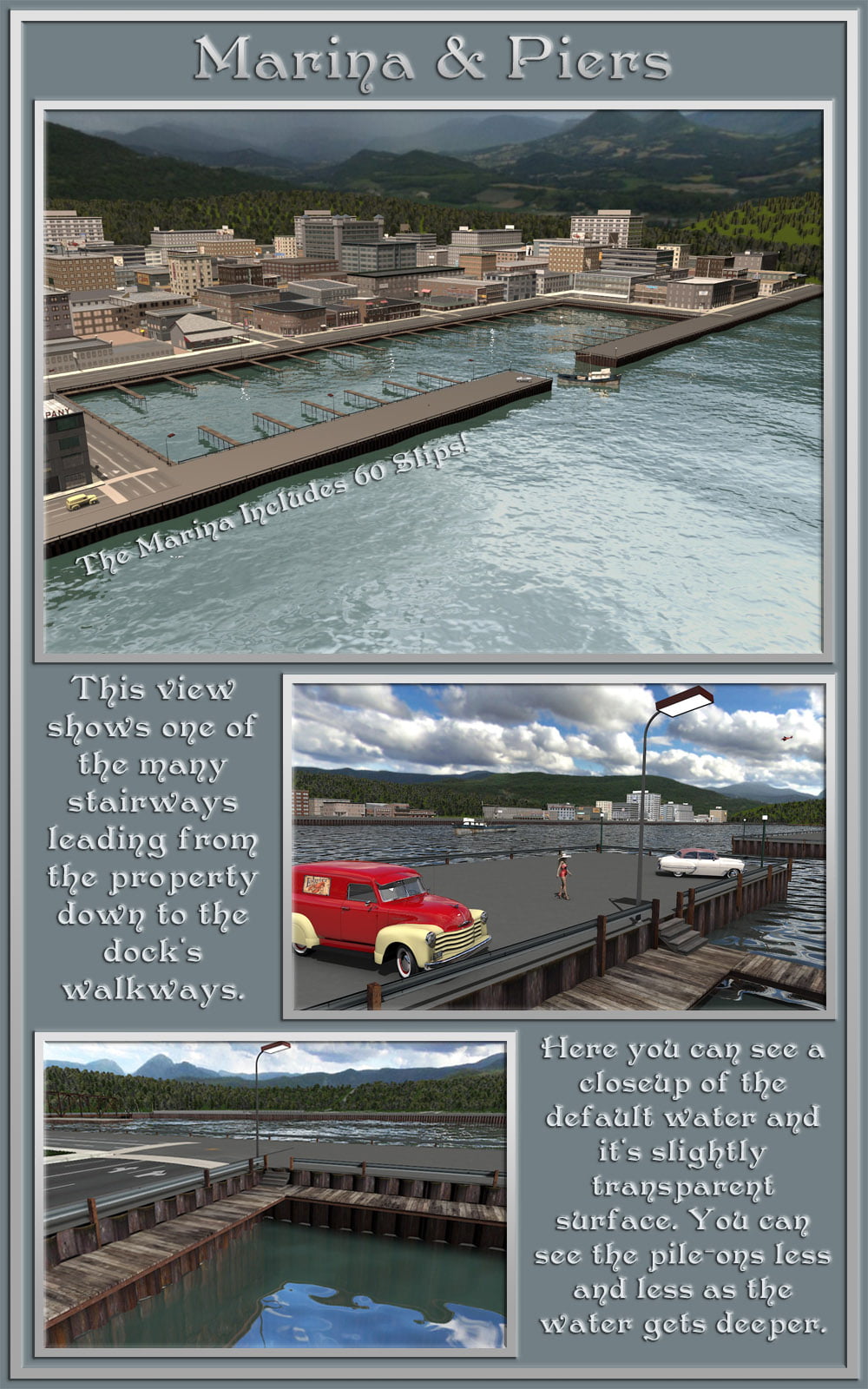 ---