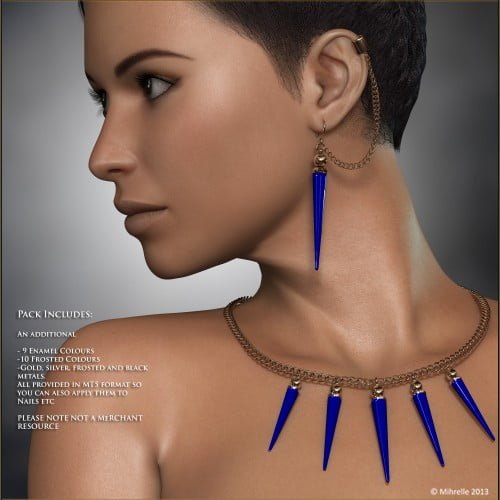 Nevara's name means snow and here is the 'ice' – a jewellery prop pack inspired by Nevara but which will also fit any V4 figure. These Jewellery items contain lots of morphs to enable the chains to fall naturally. The Jewellery props can be loaded with or without the 'icicles' which gives you both fantasy jewellery and everyday classic simplicity. The icicles can be loaded to the chain as a collection of five or a single pendant. Additional MATS are provided in MT5 format so that you can create many different looks.
The neckchain has movement morphs and is provided both with and without a selection of V4 morphs, which are superconforming. This means you can be precise on close-up renders but also gives you a lighter version of the chain if the morphs aren't need for your scene. The ear chain contains it's own morphs which enable precise positioning and fitting, rotate the earring so it hangs naturally and then move the chain into position. The pendants are parented to the necklace which means they will move with the necklace location but not with morphs. You need to position the chain first, then if you have used morphs you will need to adjust the position of the pendant/s.
Also included is a frosted skin option for Nevara with 3 'ice themed' make-ups. These make-ups come in both normal Poser MATS, and one with SSS MATS for Poser 9 and above. These make-ups use displacement maps so you will need to check 'Use displacement maps' in your render settings to get the full effect. Please note that due to the complex nature of the shaders, the preview may not look as expected but will render correctly.
Please note also that this product has NOT been tested in Daz and no Daz MATS are included.
Thank you for your interest in this product.
What's Included and where it can be located when installed:
MRL: Ice Prop Folder:
Left and right earrings with 'icicle'
Left and right Earrings without 'icicle'
Left and Right Ear Chains
Single ring for Left and Right
Triple Rings for Left and Right
Full Necklace with and without V4 morphs
Neck Chain with and without V4 morphs
Smart propped single pendant
Total of 8 earring props and 5 necklace props
MRL:Ice Pose Folder:
Ear Chain fittings for V4 Left and Right
Ear Chain fittings for Nevara Left and Right
MRL:Nevara Pose Folder:
Frosted Skin for Poser MATS
Frosted Skin for SSS for SSS MATS
3 Fantasy Ice Make-ups for Poser MATS
3 Fantasy Make-ups for SSS MATS
MRL:Ice: Materials Folder
04 MATs to load icicle with different metals
09 Enamel MATS
10 Frosted MATS
04 Metal MATS
Ice Textures
5 Reflection Maps
Nevara Textures
3 Fantasy Makeup Maps
3 Spec Maps for Fantasy Make-ups
3 Bump Maps for Fantasy Make-ups
3 Displacement maps for Fantasy Make-ups
Matposes and Material Settings are optimized for Poser 8 and higher.
Morphs List:
Ear Chains:
Movement Chain
Chain Back
Chain Back2
Chain Forward
Chain Forward 2
Chain In
Chain Out
Movement Chain Tip
Chain Tip Right
Chain Tip Left
Chain Tip Up
Chain Tip Down
Chain Tip Forward
Chain Tip Back
Movement Ear Cuff
Ear Cuff In/Out
Ear Cuff Front/Back
Ear Cuff Up/Down
Necklace with V4 Morphs:
V4 Morphs:
Amazon
BodyBuilder
Definition
Fitness
Thin
Voluptuous
Young
Movement Morphs:
Hang Forward
Hang forward2
LCollar Up
LCollar Up2
RCollar Up
RCollar Up2
Centre Down
The Necklace version without V4 Morphs has the same movement morphs as listed above
Mat poses and Material Settings are optimized for Poser 8 and higher. Hair Clothing and Lights are not included. No postwork on promotional images except for composition.
Software Required:
Poser 8 or above . (Please note SSS shaders require Poser 9 or PoserPro 2012)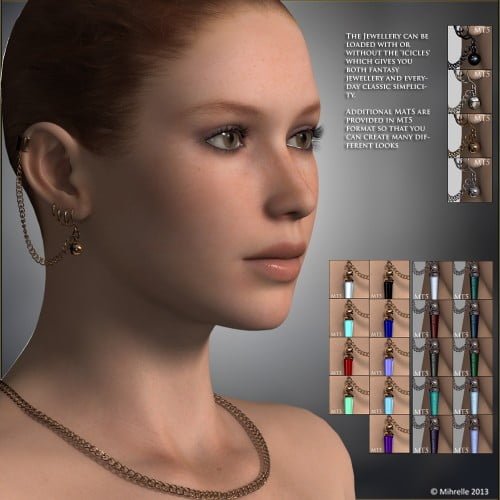 ---