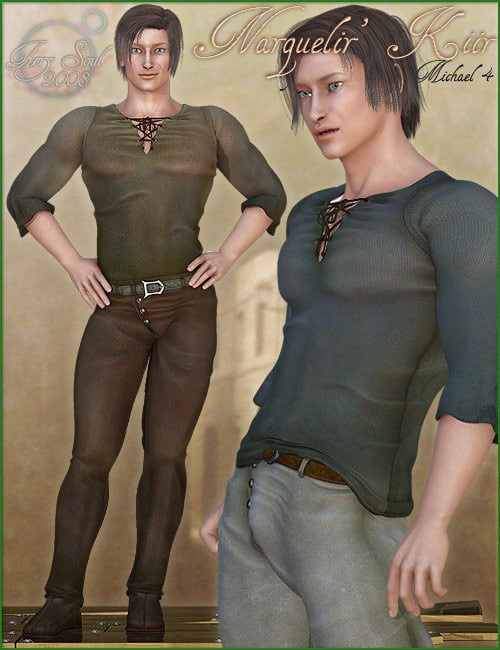 Narquelir' Kiir, October's Gem.
Fall is coming in the fantasy realms and Michael 4 needs something comfy and versatile for his "everydays". Be them in a fantasy world, in medieval times, or in the 21st century. This shirt-trouser-shoe set will always come in handy!
They may be a set of simple clothes in concept, but they still contain style and Aery Soul's quality touch you have come to rely on. The shirt also looks great as a vest (sleeves are a separate material and can be made transparent) and, as both trouser and bootie shoes, with the right texture can easily be used as any fantasy, medieval, or modern day outfit you wish to, or need to have!
Included are two texture styles both in clean and dirty style.Optimized materials are included for Poser 6/7, however, the package includes diffuse, bumps and specular maps for an optimal and professional texture outcome in any 3D rendering package, under any light. Mesh is high quality and textures are photo realistic but also digitally, artistically perfected to enhance the details and features of the mesh.
Included are several fitting morphs to make it easily usable with custom characters. If you run into any fitting issue/poke-through remember to check the included "helper" morph to solve them!
---