Natural Petite Morphs for GND4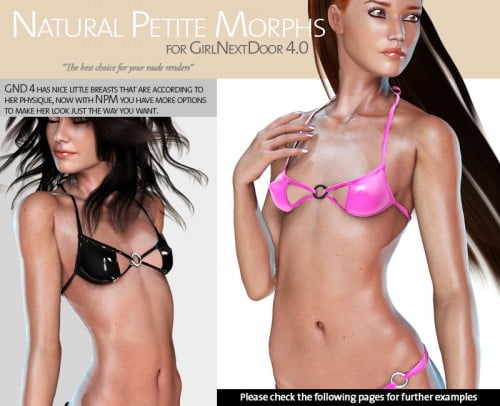 GND4 has a slender and athletic figure and her default breasts are shaped accordingly but if you want to portray any other cup size you are out of luck because the V4 morphs++ not always play well with GND4 due to her extreme morphing. Making smaller breasts that look real is a problem so that is why I have created this set just for GND4.
In it you will find 7 morphs that cover the most common shapes of smaller breasts, from the average size to the almost entirely flat chest.
This shapes do not require the purchase of either NGM for GND4 or V4 morphs++.
Now, if you have NGM for GND4 and V4 Morphs++ you can use the extra set of 7 morphs that I made to add versatility to this set and offer you more options to choose from.
You need Girl Next Door 4.0 by Blackhearted for this package to work properly.
For the extra shapes included in this package you need NGM for GND4 and V4 morphs++
---