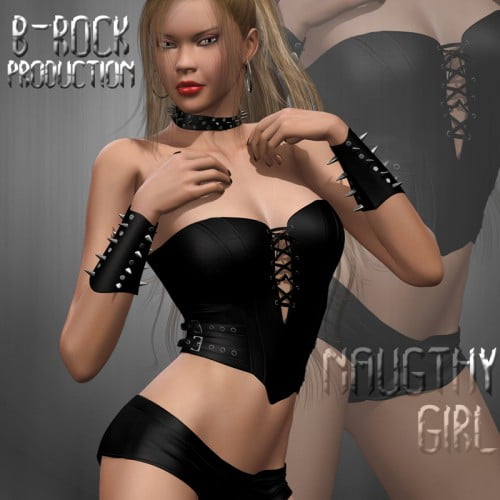 Poser 6, Poser 7, Poser 8, Poser 9, Poser Pro 2010, Poser Pro 2012, Daz Studio 4.5, Daz Studio 3
Base Figures:Victoria 4
Products:Victoria 4.2, Optional Aiko 4 The Girl 4 Pretty Base IV
?Naughty Girl? is an outfit set which is designed for Victoria 4, Aiko 4, The Girl 4 and Pretty Base IV. The parts are formed by high quality meshes and also contain many dynamic morphs to give the most realism to your scenes.
FIGURES (CR2 and OBJ)
1 Morphing, comforming top figure
1 Morphing, comforming Shorts figure
1 Morphing, comforming wristbands figure
A pair of morphing, comforming choker figure
2 earring props (left, right)
2 bracelet props (Left,right)
MORPH LIST
AdjustWaist
AdjustTorsoUp
AdjustThighs
AdjustHips
AdjustForearms
AdjustCollars
AdjustBreasts
AdjustLegBendR
AdjustButtocks
AdjustBrstCleavage
Dynamic Morphs
ShortsUpBackL
ShortsUpBackR
ShortsFrontOpen
ShortsDownL
ShortsDownR
DownL
DownR
DownFull
Morphs++
BreastsImplant
BreastsHangForward
BreastsFlatten
BreastsDroop
BreastsDiameter
BreastsCleavageWidth
BreastsCleavage
AreolaPerk
TrapsSize
LatsSize
Inhale
BreastsNatural
BreastsLarge
LoveHandleR
LoveHandleL
HipsSize
HipsCrest
BellyThin
BellyThickness
BellySmooth
NipplesHeight
NipplesDepth
Nipples
BreastsSize
BreastsPerk
ThighsTone
ThighsThickness
GlutesSize
WaistWidth
TummyOut
TorsoThickness
StomachDepth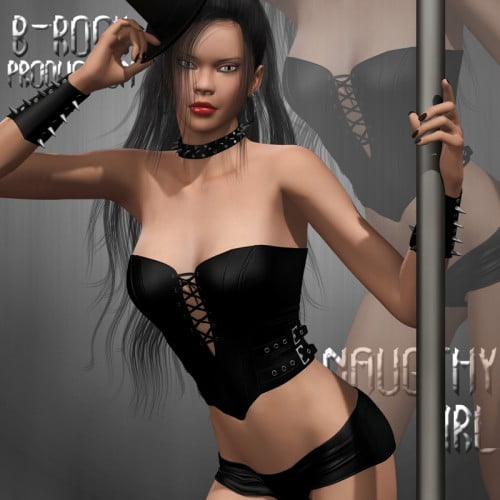 ---