New Young Faces for G2F & V6 Custom Head Morphs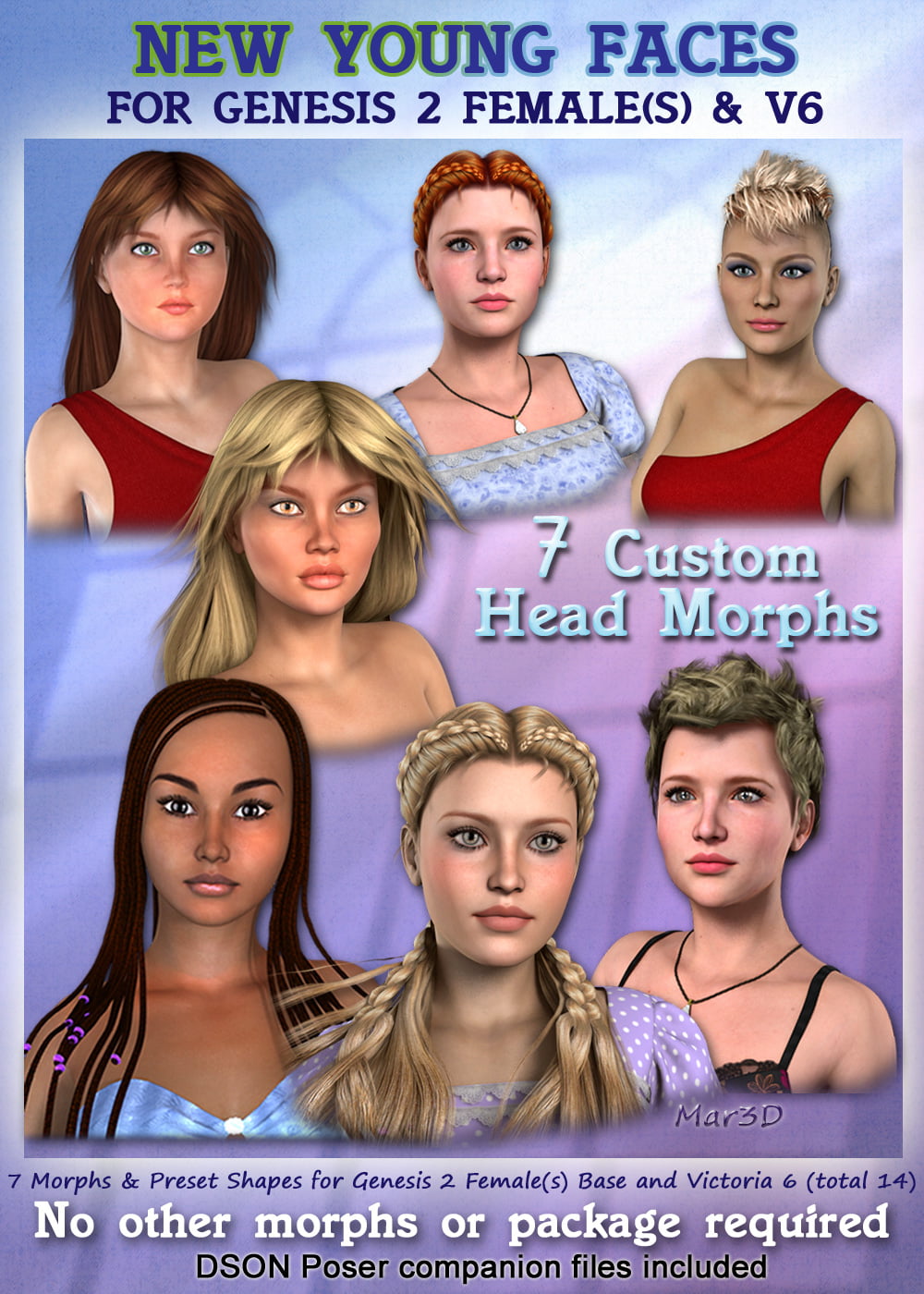 ---
New Young Faces for G2F & V6 Custom Head Morphs
This is a set of 7 custom head morphs (INJ files) for use with Genesis 2 Female(s) and/or Victoria 6
No other Morphs or package required. Only the Genesis 2 Female Base (Free with DAZ Studio).
DSON Poser companion files are included for all presets.
Note that this is only a custom Shape /Morph set for the head. You need the Genesis 2 Female Base shape to use this set.
Included is a set of 7 Head Morphs to give your Genesis 2 character a different face.
No character, hair, clothing, props or textures are included. You can use any G2F character skintextures.
You will find 7 Head Presets (INJ Files) for use with Genesis 2 Female(s) and another adjusted set Presets for use with V6, to take advantage of the different head shape.
The presets (INJ files) to apply a custom New Young Face morph to your Genesis 2 Female character are set to 100 percent.
The presets for V6 are set to 100 percent of the New Young Face Morph & 40 percent of the V6 Head. (Please, see readme.txt for more information)
You will find the Presets in your content folder: people >Genesis 2 Female >Characters >Mar3D >New Young Faces G2F
You can also mix and match morphs with the included dial/slider for the Head Morph, and create more faces.
You can find the sliders under the Tab Shaping: Actor > Head > Real World
Use the included preset RESET ALL to reset your changes for the head when needed.
---

---