Nhu for V4 by Beautiful World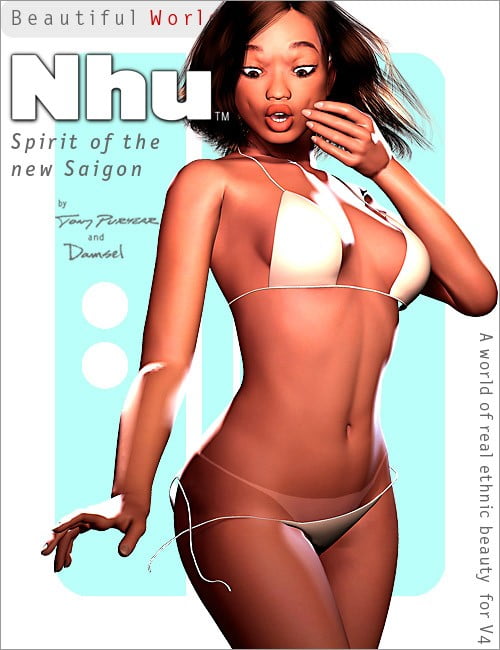 She?s sexy! She?s Nhu! Introducing Nhu, a new, premium photo-realistic character from Beautiful World. She?s a flirtatious young free spirit from Saigon. Okay, ?Ho Chi Minh City,? sorry, Uncle Ho, but whatever you call it, it?s one of the world?s most rocking cities, and Nhu intends to rock it for all it?s worth.
A mixed-race beauty, Nhu sets a new standard in sensuous Poser modeling, an exotic new benchmark in personality and a seductive new level of fun. Welcome to a real world of ethnic beauty for V4! Custom shaped by Hollywood writer/artist Tony Puryear (Eraser) and acclaimed 3D modeler Damsel, Nhu?s slender but curvy figure uses V4?s body morphs, so the new generation of morphing clothing will hug every sexy curve. Her photo-real skin texture comes with a custom shader option to bring her to vivid life down to the last freckle.
Nhu comes with two lash styles, five custom eye colors, six unique nail styles, 10 complete makeups and a no-brow option. Nhu also comes with her own exclusive jewelry, a pair of pearl earrings and a pearl necklace. Load her in your Runtime today, and get sexy, get Nhu!
---