Ninja Setsuko for V4 by Third Degree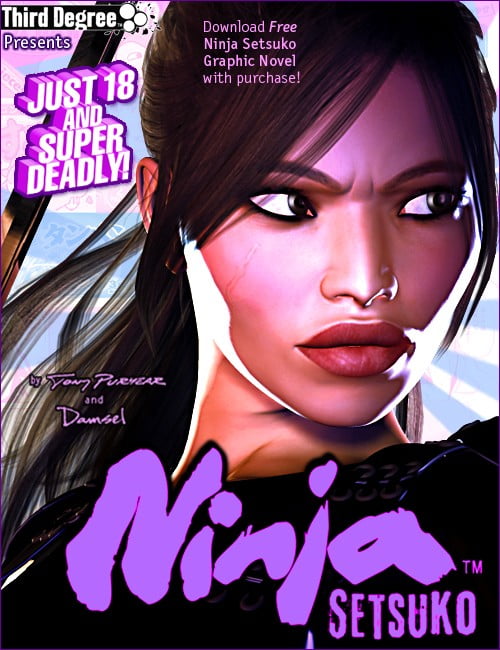 Night. An assassin stalks a Tokyo rooftop, gleaming blade in hand. A rustle in the darkness, a shadow on a shadow, and the assassin falls, dead, dispatched by a slender whisper of a girl, an 18 year-old killing machine in a schoolgirl?s dress, a haunted, hunted beauty who?s never been kissed.
Meet Setsuko, Ninja Setsuko?, the new premium model from Third Degree. Custom shaped by Tony Puryear and Damsel, creators of the best-selling Gioia and Nhu from Beautiful World, Ninja Setsuko sets an exotic new standard in character modeling and introduces an addictive new story world of intrigue and danger.
Ninja Setsuko?s photo-realistic textures come with a custom shader option and over 100 subtly detailed MAT combinations and makeups, including optional scar and tattoos, Geisha, Noh, Harajuku and Classic Ninja blackened face, plus five custom eye colors, five unique nail styles, no-brow and simple lash options and two bonus props, a ninja shoji screen and bench.
Ninja Setsuko is the first of the Ninja Brand? of products from Third Degree, which includes ninja armor, swords and a schoolgirl dress by Hongyu. Each comes with an exclusive downloadable Ninja Setsuko comic, written by Tony Puryear (Eraser.)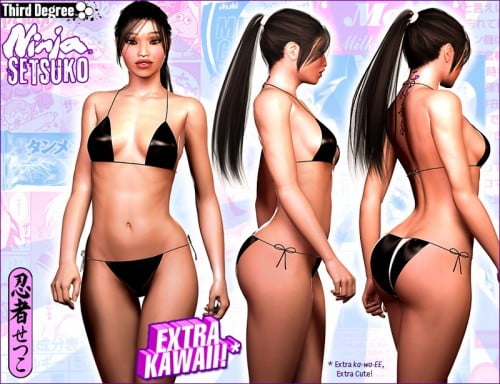 ---