Ocean Wave Hair + OOT Hairblending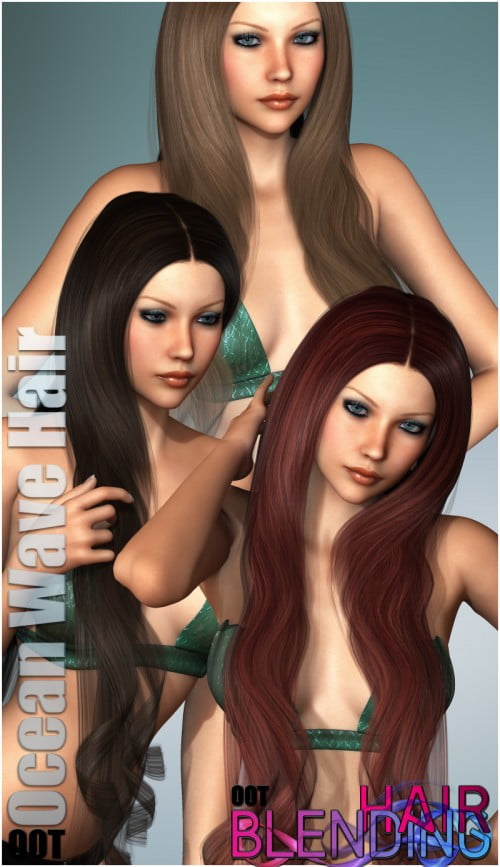 Ocean Wave Hair is a high quality super-long conforming hair for Victoria 4, Aiko 4 and The Girl 4 with up-to-date technical goodies. The hair figure can be either conformed or parented to V4.
[3D MESH]
Ocean Wave Hair is a multi-layered quality hairstyle with a subtle
polygon count to make it look flawless when being morphed,
but does not break down computer resources. The hairfigures come with 3 additional bodyparts and 2 bodyhandles to move the front left and right part and the back part seperately.
[MORPHS]
A big effort has been put into the creation of morphs for this
hair to give you many possibilities for styling and adjusting.
Included are 88 morph targets for styling, adjusting and FX, letting the hair fly in the wind or float in water. With this hair,
a special eye has been put on creating morphs that simulate
a nice underwater floating effect.
Figure Fit morphs come for Aiko 4 (+ Realistic) and The Girl 4.
[CTRL JCMS]
The hair joint setup has been improved with built-in JCMs for
better bending. CTRL Jcms for shoulder movement prevent
sticking hair into skin on shoulder areas when arms are moved.
[CONFORMED VS. PARENTED]
Please make sure you try out just parenting the hair to V4?s head
instead of conforming it. Parenting will free you from mesh distortion
with more extreme head / neck movement, however it will require
your manual adjustment. With the included morphs and bodyhandles
and with a few tries you will surely get a very nice result of movement.
Since every pose is different, try out a different combination of morphs
and bodyhandle movement to find a way of movement to your desire.
Especially windy hair styles work better with having the hair
parented than conformed.
[GET CREATIVE]
A big brandnew feature in our hairs is the innovative and unique OOT HAIRBLENDING feature. Easily blend one of the 50 included high resolution photorealistic textures with each other for thousands of looks. See the popup promos above for more information!
?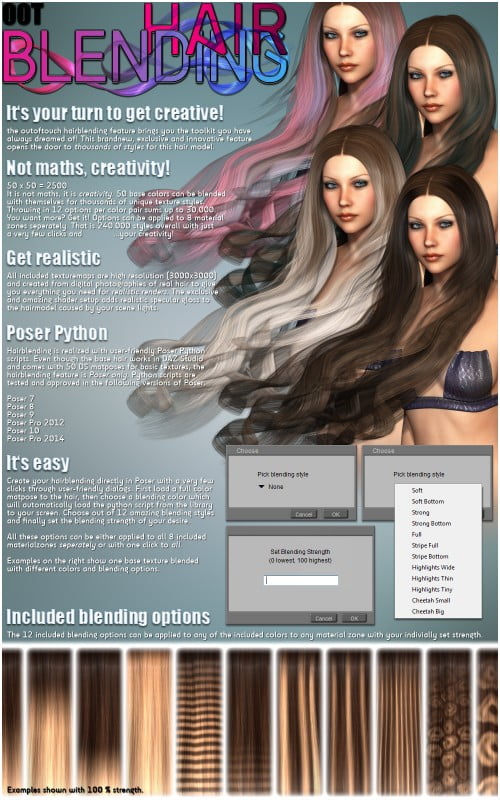 ---