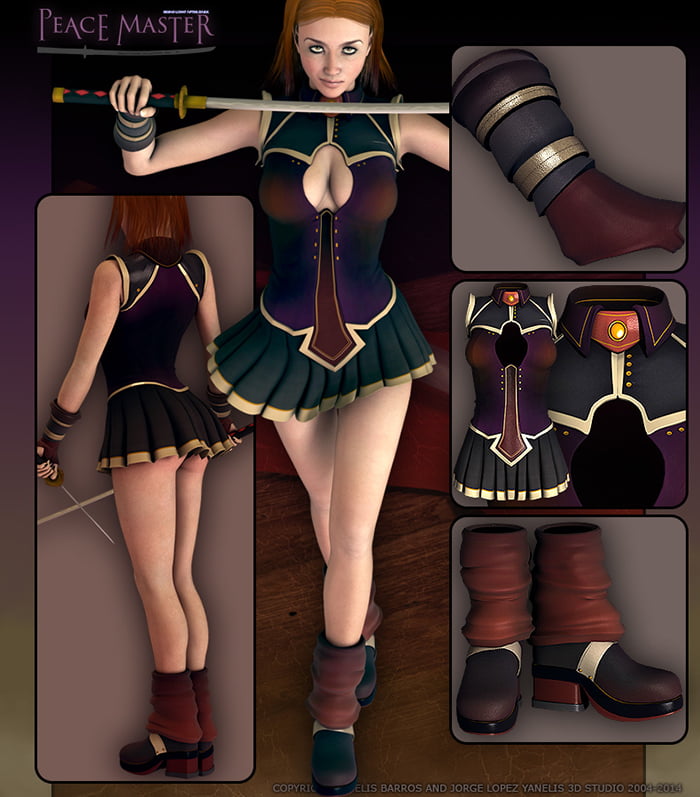 Yanelis3D presents the new fantasy themed clothing, prop, and pose pack for Victoria 4. This product is both Poser and Daz Studio compatible. This product is inspired on an image of a girl who fights for justice with the strong power of the Katana (Japanese Sword). She brings light where there is darkness. This pack includes four clothing pieces, 5 poses, 1 hand pose and the Katana for both hands. The dress is completely poseable and includes handles to pose the skirt directly with the posing tools in both Poser and Daz Studio. This product is compatible with the following Morphs ++: Voluptuous, Fitness, Breasts Size, Breasts Cleavage, Breasts Large, Breasts Implant, Hips Size, Glutes Size. Also, Elite Utopian and Aiko 4.
Compatible with Aiko 4 standard body, Fitness, Voluptuous, Elite Utopian, Hips Size, Glutes Size, Breasts Size, Cleavage, Implant, and large.
The skirt is riggued so it can be manually posed and adjust it to the desired pose. It has a windy morph that is very useful in gravity effect and can be enlarged.
High quality Mesh and textures 4096×4096 with color, specular, bump, and displacement.
Carefully configured material shaders in both Poser and Daz Studio for the best rendering results.
Poses were carefully created for the most natural, realistic, and fantasy look.
The product haves JCM (Joint Controlled Morphs) and is super conforming to improve the user friendly experience.
The dress has adjustment morphs that can be used to fix any issues that custom morphs, poses, or other shape that isn't V4 default shape.
Super Conforming Dress
Super Conforming Panty (Genital Cover, not for intended individual use)
Super Conforming Gloves
Super Conforming Boots
Prop Katana (unparented)
Smart Prop Katana R Hand
Smart Prop Katana L Hand
5 Poses with their mirrored version with total of 10 pose files
1 hand pose in the hand section for both hands.
Daz Studio and Poser Materials
UV Templates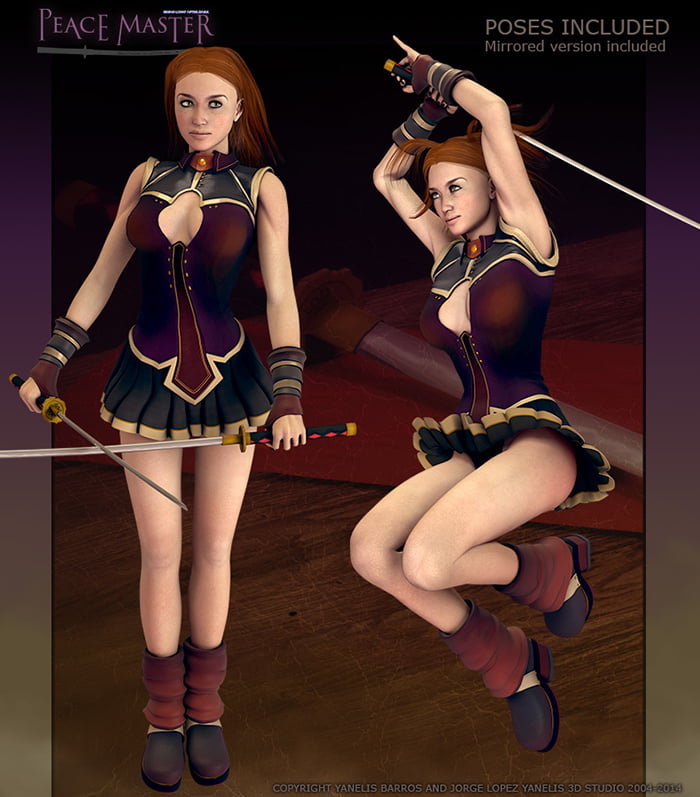 ---