Pix Pyrida HD and FireFly Outfit for Genesis 8 Female(s)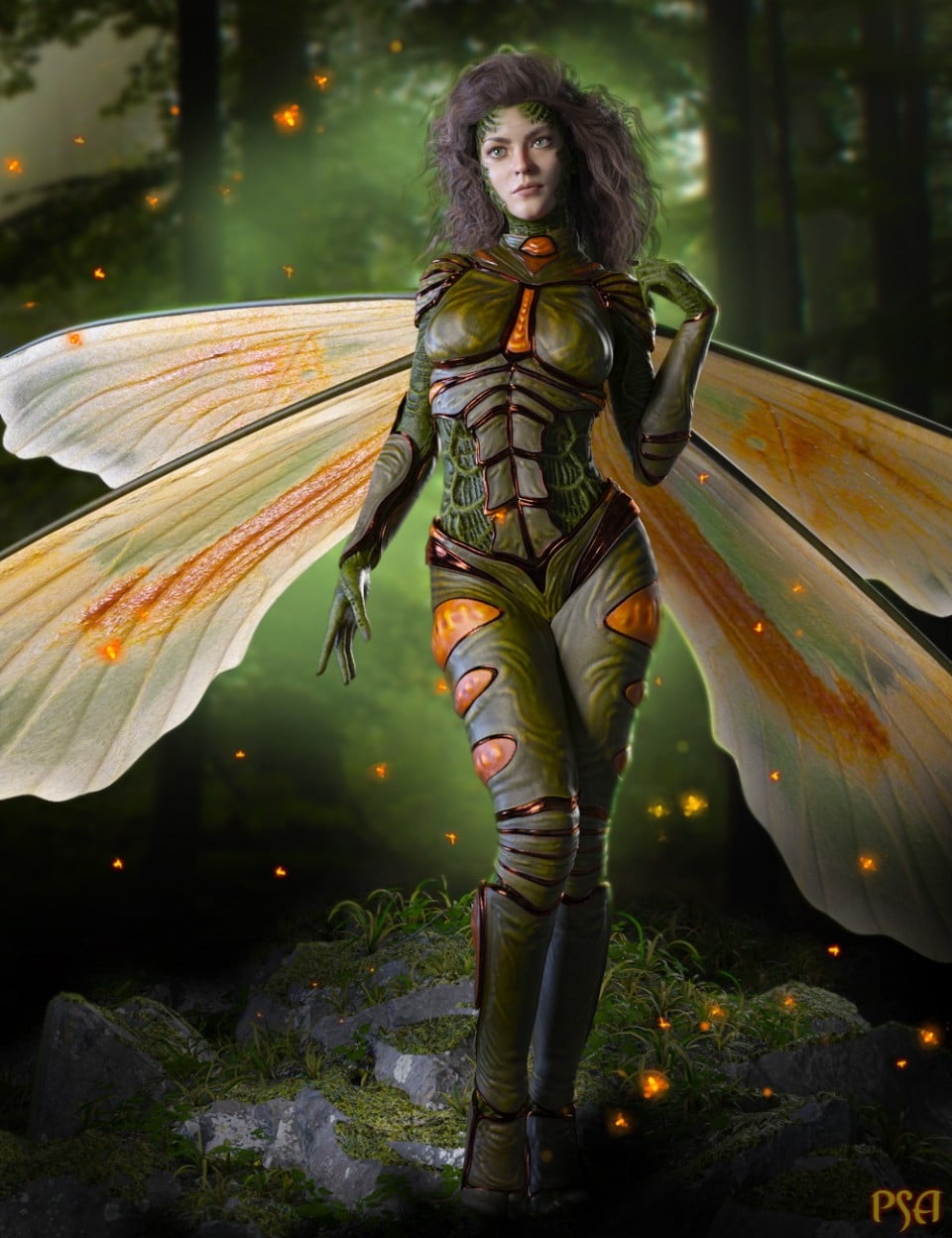 The creatures of the strange alien world that they call as they do themselves Pyrida are as beautiful and mysterious as they are formidable and dangerous. Much like the fey faery folk of our myths and legends, seldom seen but known to inhabit the emerald fields and hollowed caverns of remote locations. Seek them out, welcome them, if you dare, but possibly not without great peril.
Pyrida is a gorgeous handsculpted character having two forms. One human and the other her alien creature-like counterpart created as HD morphs in ZBrush.
Pyrida also comes with her ownFireFly outfit – a skin tight fitting armor suit, mask, scarf, hood, two different styles of wings and antennae.
All of these pieces were textured to match Pyrida's creature skin. Wearables presets were included to make loading different outfit configurations with wing and antennae types attached a breeze
Note Since both the Pyrida character and her FireFly outfit were created to make best use of HD morph technology, the full resolution needed for best results can be very taxing on weaker systems. In this case, you can dial down the rendering subdivision (found in the "Mesh Resolution" section under the general properties in the Parameters tab of each clothing item) to level 2 or 3. When you do this, please note that you will lose most of the HD morph definition!
What's Included and Features
Pix Pyrida HD and FireFly Outfit for Genesis 8 Female(s) (.DUF)
Pyrida Character
Pix Pyrida Creature HD character Preset
Pix Pyrida Character Preset
Pyrida Brows !Apply
Head and Body options
FUll Shape Preset
Pyrida !Creature HD Apply
Pyrida !Creature HD Remove
Pyrida !Head Shape Apply
Pyrida !Head Shape Remove
Pyrida Body !Shape Apply
Pyrida Body !Shape Remove
Pyrida Full !Body Shape Apply
Pyrida Full !Body Shape Remove
Pyrida Creature Nails Off
Pyrida Creature Nails On
Pyrida Nails Off
Pyrida NailsOn
Pyrida Navel Off
Pyrida Navel On
Pyrida Nipples Off
Pyrida Nipples On
Iray Materials
Pyrida Character
Pyrida Creature Full Mat
Pyrida Full Mat Iray
Face options
Pyrida !Face Default
Pyrida Face MU01
Pyrida Face MU02
Pyrida Face MU03
Pyrida Face MU04
Pyrida Face MU05
Pyrida Face MU06
Pyrida Face MU07
Pyrida Creature Face !Default
Pyrida Creature Face 01
Pyrida Creature Face 02
Pyrida Creature Face 03
Pyrida Creature Face 04
Pyrida Creature Face 05
Eye Options
Pyrida Creature !Eyes Default
Pyrida Creature Eyes 01
Pyrida Creature Eyes 02
Pyrida Creature Eyes 03
Pyrida !Eyes Default
Pyrida Eyes 01
Pyrida Eyes 02
Pyrida Eyes 03
Pyrida Eyes 04
Pyrida Eyes 05
Pyrida Eyes 06
Pyrida Eyes 07
Pyrida Eyes 08
Brow and Lash options
Pyrida No Brows Face Only
Pyrida !Brows Default
Pyrida Brows Blonde
Pyrida Brows Brown
Pyrida Brows Dark Brown
Pyrida Brows Green
Pyrida Brows Red
Pyrida Brows Tangerine
Pyrida Lashes !Default
Pyrida Lashes 01
Pyrida Lashes 02
FireFly Outfit for Genesis 8 Female(s) (.DUF)
FireFly !Configuration 1
FireFly !Configuration 2
FireFly !Configuration 3
FireFly !Configuration 4
FireFly !Wing Assembly Default
FireFly !Wing Assembly Moth
FireFly Antennae Default
ctrlbendallboth
ctrlbendalleft
ctrlbendallright
ctrlsideallboth
ctrlsideallbothrev
ctrlsideallleft
ctrlsideallright
ctrltwistallboth
ctrltwistallleft
ctrltwistallright
FHMExpandAll
Pronounce Insets
FireFly Antennae Moth
ctrlbendallboth
ctrlbendalleft
ctrlbendallright
ctrlsideallboth
ctrlsideallbothrev
ctrlsideallleft
ctrlsideallright
ctrltwistallboth
ctrltwistallleft
ctrltwistallright
FHMExpandAll
FireFly Head Hood
Adjust Chest
Adjust Shoulders
Details HD
FBMExpandAll
Fit Wingbase Flaps
FireFly Head Mask
FBMExpandAll
Loosen Eyes
Loosen Neck
FireFly Head Scarf
Adjust Chest
Adjust Shoulders
Details HD
FBMExpandAll
Loosen Neck
FireFly Suit
Adjust Ankles
Adjust Back
Adjust Buttocks
Adjust Chest
Adjust Elbows
Adjust Feet
Adjust Hands
Adjust Hip
Adjust Knees
Adjust Lower Arms
Adjust Shins
Adjust Shoulders
Adjust Thighs
Adjust Upper Arms
Adjust Waist
FBMExpandAll
FireFly Wingbase
Expand Back
Left open
Right Open
FireFly Wings Default
CTRLFlapLLowerWing
CTRLFlapLowerWings
CTRLFlapLUpperWing
CTRLFlapRLowerWing
CTRLFlapRUpperWing
CTRLFlapUpperWings
CTRLSideSideLLowerWing
CTRLSideSideLowerWings
CTRLSideSideLUpperWing
CTRLSideSideRLowerWing
CTRLSideSideRUpperWing
CTRLSideSideUpperWings
CTRLTwistLLowerWing
CTRLTwistLowerWings
CTRLTwistLUpperWing
CTRLTwistRLowerWing
CTRLTwistRUpperWing
CTRLTwistUpperWings
Wings small
FireFly Wings Moth
CTRLFlapLLowerWing
CTRLFlapLowerWings
CTRLFlapLUpperWing
CTRLFlapRLowerWing
CTRLFlapRUpperWing
CTRLFlapUpperWings
CTRLSideSideLLowerWing
CTRLSideSideLowerWings
CTRLSideSideLUpperWing
CTRLSideSideRLowerWing
CTRLSideSideRUpperWing
CTRLSideSideUpperWings
CTRLTwistLLowerWing
CTRLTwistLowerWings
CTRLTwistLUpperWing
CTRLTwistRLowerWing
CTRLTwistRUpperWing
CTRLTwistUpperWings
Wings small
2 Material Presets
Organic
Supero Hero
Textures include:
151 Texture, Bump, Transparency, Specular And Normal Maps (2048 x 2048 to 4096 X 4096)
Daz Studio Iray Material Presets (.DUF)
Notes
This product includes:
1 DSON Core Installer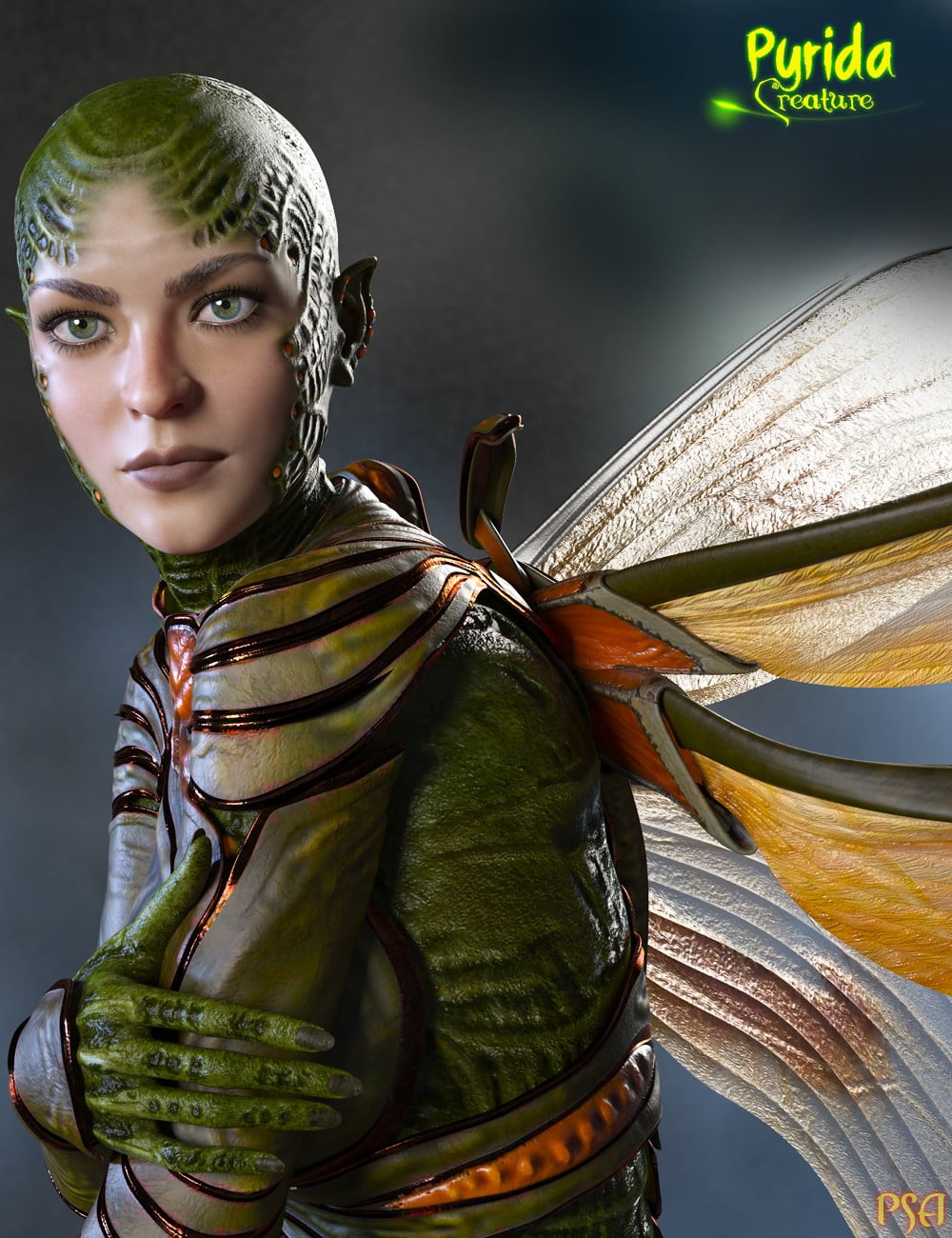 ---