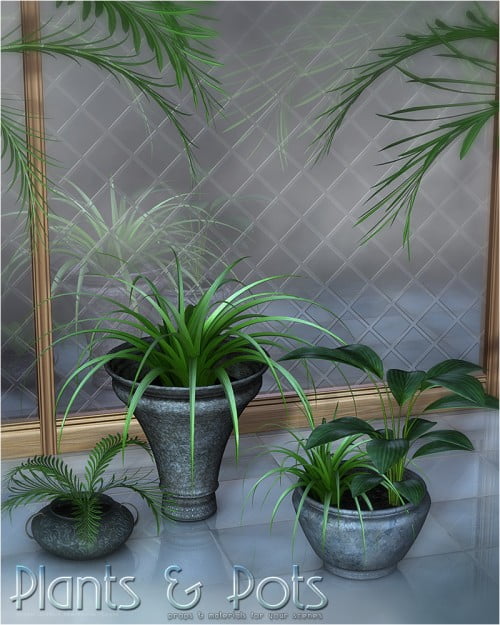 A detailed set of carefully modeled plants and pots to add to your scene, the perfect scene accessory to add a bit more interest and fill in those empty spaces be it home, office, fantasy, and more!
Whats Included:
The Props:
– 12 "Presets" – Plants already fit and smart propped to complementing pots!
– 06 Single Plants
– 04 Single Pots
– OBJs are included for importing into other 3D programs
– 10 Props total (not including the presets)
– All props do NOT use transparency maps, except for the Ivy plants. Leaves are modeled and mapped w/out the use of transparency, creating your own textures is even easier!
– Presets load with plants already smart propped to the pot, selecting the pot and moving the loaded preset will move all the plants in the pot as well! Some presets contain several plants (sized, rotated, and fit to the pot already!) for a unique mini-garden for your scenes.
The Materials:
Additional materials are included for the pots, each pot has 02 extra colors plus the default, 03 each.
– 03 Materials for Pot 01
– 03 Materials for Pot 02
– 03 Materials for Pot 03
– 03 Materials for Pot 04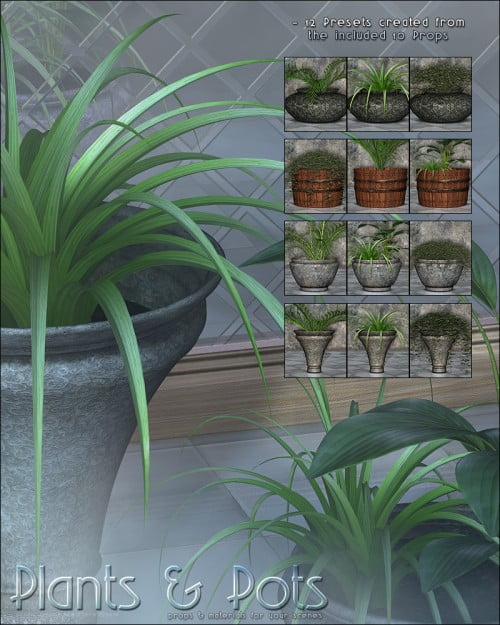 ---