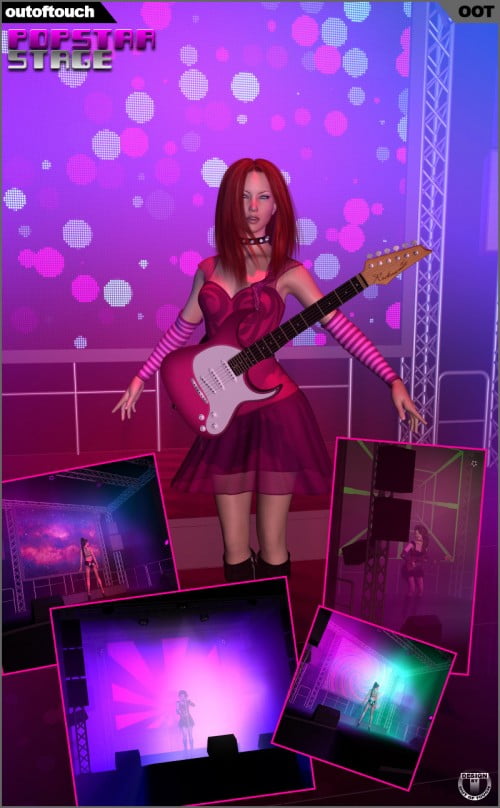 Popstar Stage
The Popstar Stage is the perfect place for your Poser and DS performers! This mid-sized complete stage set is perfect for your small music groups, solo performers and dancers.
Included are 10 high quality PreLoad stage light setups that have been especially created to be used with the Poser atmospher feature for volumetric renders.
This product has been created for Poser 8 or higher, but works in DAZ Studio 4.6 as well. Please refer to the readme for further information about DS usage.
We hope you like this set, thank you very much for viewing.
——————————————————–
What you get with this package:
——————————————————–
Popstar Stage Preload
Popstar Stage Speaker
Popstar Stage Monitor Speaker
Popstar Stage Fog Machine
Popstar Stage LED Light XXL
Popstar Stage LED Light
Popstar Stage Solo
10 PreLoad Lightsets
20 LED Screen images
01 customizable LED Screen preset for your own images
03 Poser atmosphere settings
06 Figure GoTo Poses (useable with any figure or prop)
Detailed HTML How-To-Use Guide (for Poser)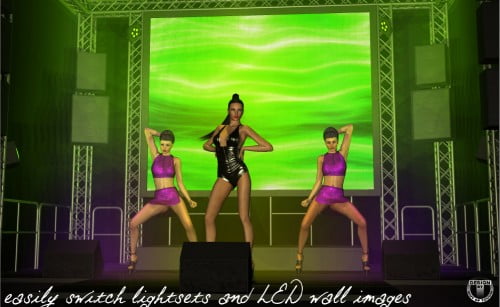 ---