Praeclarusa 3 – The Gates of Hell Dress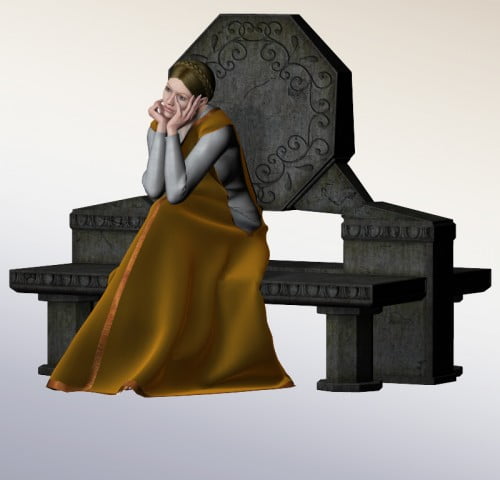 Praeclarusa 3: The Gates of Hell dress
A realistic medieval dress for V4
Praeclarusa (meaning: valuables or precious things) is a series of medieval clothes – clothes that are not longer costumes but carefully crafted 3d-products that are as close as possible to real historic garments.
This third issue, the Gates of Hell dress, bases on the sleeveless dresses of the 13th century and was in fashion from the 14th until of the end of the 15th century. The large armholes allow a glimpse to the underdress, the reason for the name ofhis outfit.
With the Gates of Hell dress you are not longer bound to morphs when it comes to make your dress follow your figure!
Elegant sitting poses, walking, leaning against a wall, even the flight on a broom – now you decide where the limits are!
Look what you get:
A Cotehardie (underdress)
A Gates of Hell Surcote (overdress)
14 (!) gorgeous velvet materials
3 brocade materials
7 linen materials
12 dynamic presets for altering the behaviour of the dresses (and any other dynamic item you own)
Material presets for each dress (3 borders, 14 for the Surcote, 7 for the Cotehardie) that apply the materials to all zones with one click.
All materials will work perfect together with Praclarusa 1 and 2!
Avery detailed tutorial containing:
-a guide on how to set up your scene
-tips on how to deal with specific poses
-how to run both simulations for both dresses
-how to use the robes in specific situations
-how to use the dresses with the Praeclarusa 1 hats
-and many other tips and tricks illustrated with several renders and animations where you can see the Robes in action.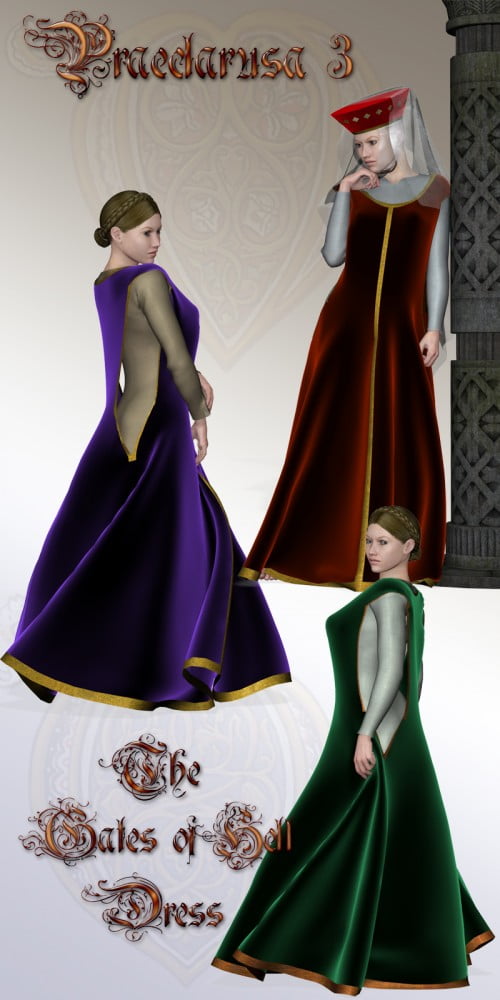 ---