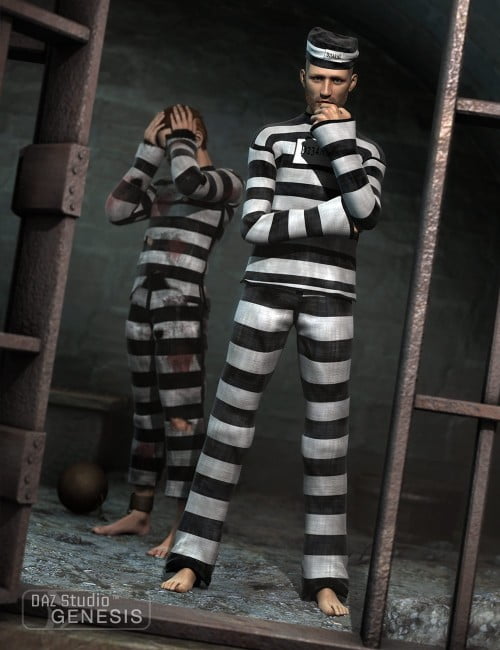 Prisoner, an outfit for Genesis comes with conforming shirt and pants, a hat prop and a chain.
Included with each conforming item are adjustment and movement morphs so you can get the perfect fit and look for your prisoner while he's doing time.
Transmap and dirt textures allow you to age the clothing for a more realistic look.
Prisoner is perfect for old timey prison scenes so start your Alcatraz render now.
Prisoner: (.DUF and .CR2)
Shirt
Abdomen_Wider
Adj Hand L
Adj Hand R
Adj Neck
AllWider
Arm Wider
Back Top Out
ChestShldr Out
Flare Lift
Hip Wider
Lift Back
Lift Front
Lift Side L
Lift
S Lift Side R
ShldrUp
Pants
Bulge
Hip Wider
Leg Bottom Line
Lift Left
Lift Right
Over Chain
WholeBody
2 Props: (.DUF and .PP2)
1 Hat Prop
1 Chain Prop
Chain Down
Chain Wider
2 Texture Styles:
Dirty Clothing
Clean Clothing
Trans Options
Textures Include:
8 Texture, Bump and Transparency Maps (3072 x 3072)
4 Texture and Bump Maps (2048 x 2048)
1 Reflection Map (1000 x 1000)
1 Reflection Map (319 x 319)
DAZ Studio Material Presets (.DUF)
Poser Custom Material Presets (.MC6)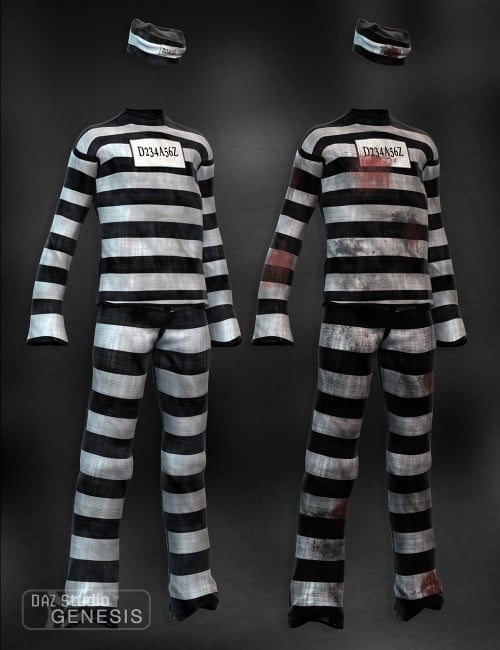 ---