Proxy XPS: Tau Ceti Futuristic Styles for Proxy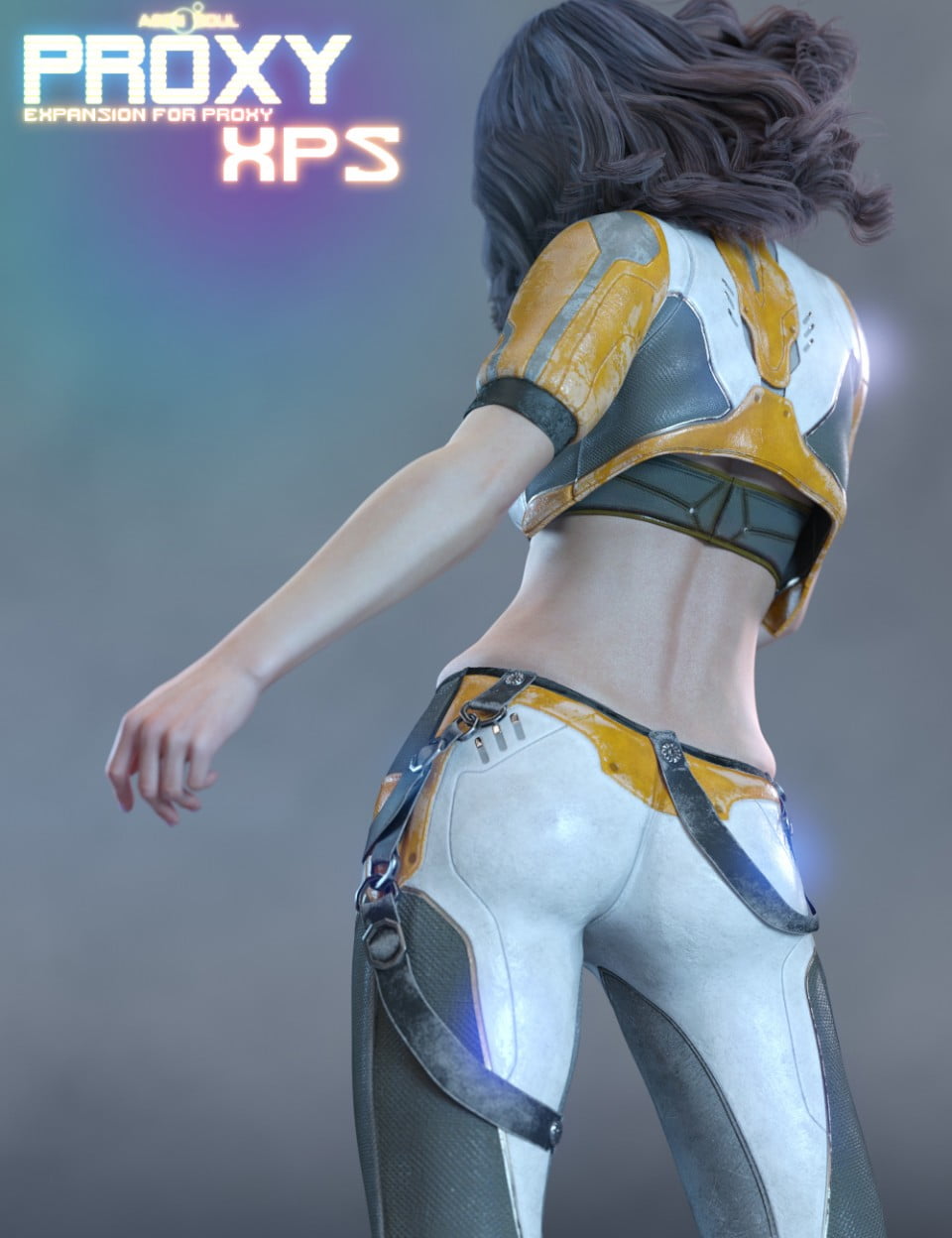 Proxy gets a futuristic, sci-fi expansion to make it even more fashion-forward! Not only that, but the expansion is a mix and match with the Tau Ceti: Overseer armor styles, both the one included in the basic package and the ones in the Tau Ceti add-on.
This expansion is a stand-alone and only requires Proxy (for Genesis 3 Female andGenesis 8 Female).
Proxy XPS: Tau Ceti styles includes 3 great and unique styles and several damaged/dirty options in different colors. Everything will work amazingly on its own or mixed with other clothes and it will match perfectly with any Tau Ceti style!
Tau Ceti: a futuristic style that talks about near-distant worlds and heroines and it's perfect for human and alien characters alike.
Ultra Sci-fi: our vision of a new-age kind of future, with smooth and flowing lines and a very space traveler appeal. The main colors are white and orange together with clean insert lines. It has a practical elegance to it.
CyberPunk: as the name implies this is inspired by this much grittier and closer to Earth vision. Tau Ceti becomes more of practical armor for someone that is a street-smart agent that doesn't spend her time in the shiny headquarters of the city megacorp, but rather carries out the undercover ops.
The textures are rich with details and nice touches to embody the style they represent, with both uniqueness and recognizably and all of them sport awesome variants that add versatility and style (tip: remember to set your "Filtering Pixel and Pixel Filter Radius" at 0.75/1.00 or so to enjoy all the crispy details of the textures, especially in very close-up renders):
TEXTURES FEATURES
Detailed 4096*4096 PBR maps
Provided are Base Color, Diffuse, Glossy, Metallic, Specular, Roughness, Normal, Height to fit different render engines and needs (specular or metalness-based shaders)
Iray PBR MATs
3Delight MATs
Full MATs to apply the whole style at once (selectGenesis 3 Female orGenesis 8 Female for them to work) for both Iray and 3Delight, for both the new styles and the ones included with the Proxy clothes.
What's Included and Features
Proxy XPS: Tau Ceti Futuristic Styles for Proxy
CyberPunk:
CP Jacket
CP Top
CP Pants
CP Shoes
CyberPunk Damaged:
CPDmg Jacket
CPDmg Top
CPDmg Pants
CPDmg Shoes
TauCeti:
TC Jacket
TC Top
TC Pants
TC Shoes
Tau Ceti Dirt:
TC Dirt Jacket
TC Dirt Top
TC Dirt Pants
TC Dirt Shoes
Tau Ceti White:
TC White Jacket
TC White Top
TC White Pants
TC White Shoes
UltraSciFi:
USF Jacket
USF Top
USF Pants
USF Shoes
UltraSciFi Damage:
USFDmg Jacket
USFDmg Top
USFDmg Pants
USFDmg Shoes
UltraSciFi Black/Gold:
USF2 Jacket
USF2 Top
USF2 Pants
USF2 Shoes
UltraSciFi Black/Gold Damage:
USF2Dmg Jacket
USF2Dmg Top
USF2Dmg Pants
USF2Dmg Shoes
Textures Include:
286 PBR Textures: Diffuse, Glossy, Metallic, Specular, Roughness, Normal and Height Maps (4096 x 4096)
Daz Studio Iray Material Presets (.DUF)
Daz Studio 3Delight Material Presets (.DUF)
Notes
This product includes:
1 DSON Core Installer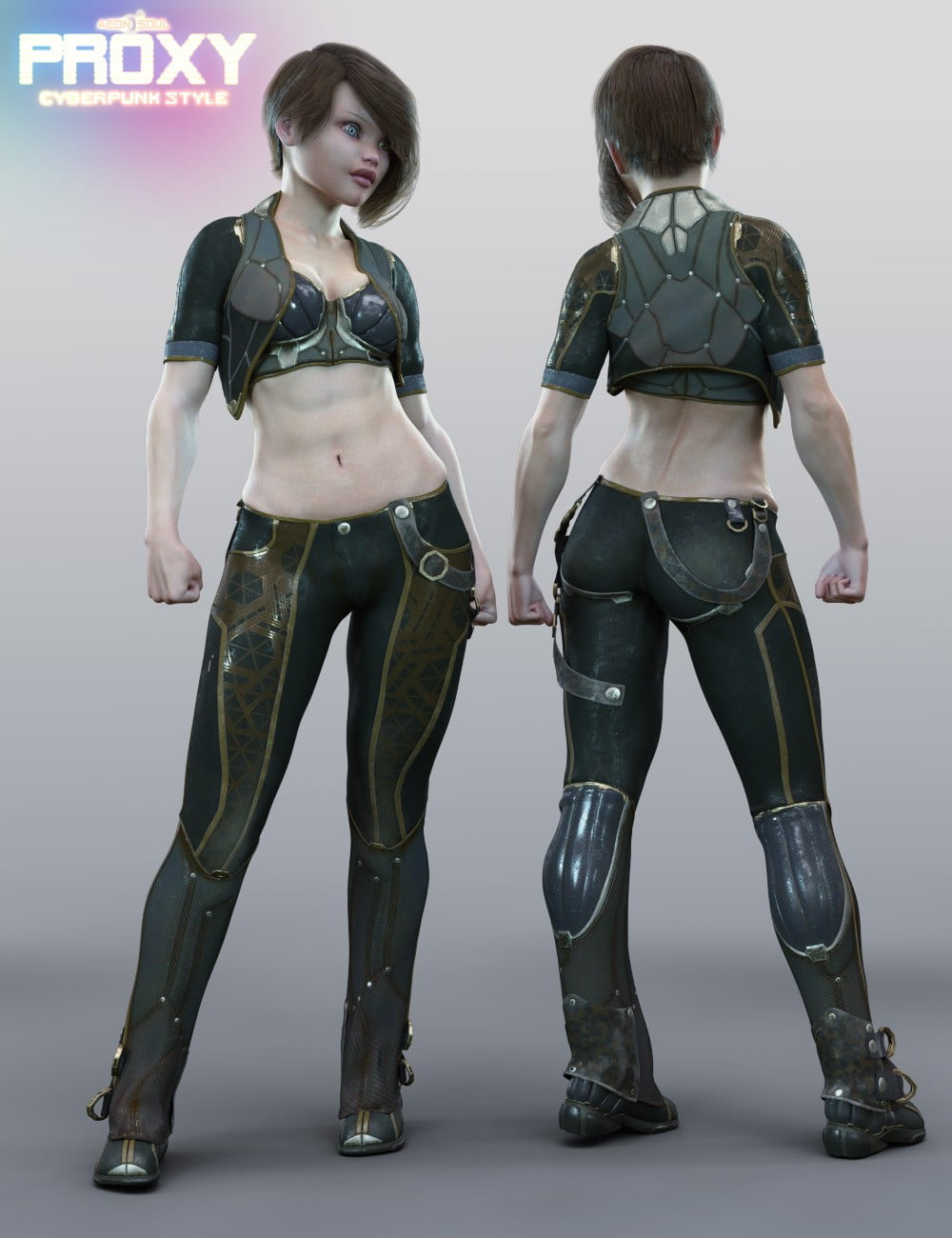 ---