QuadSpinner – Rock and Mud Collection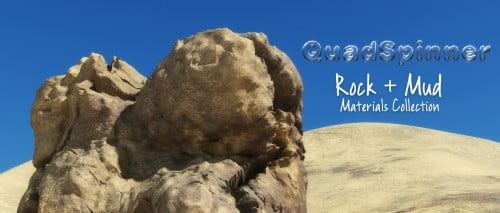 Rock
Babylon – Ideal for river rocks or stone near a variety of water bodies, this blending of lighter tones scattered with a green algae-like texture gives Babylon a unique and almost supernatural appearance.
Mesopotamia – Blending 4 different browns (including sandstone and iron ore), Mesopotamia is a photo-realistic material that gives this aged rock face diverse possibilities.
Carthage – Pale and crimson with a chiseled appearance, Carthage is the queen of canyons, deserts and sandstone rock. Creates dramatic scenes when paired with Mesopotamia.
Mud
Nile – Pure mud stone. Striations of sulfuric compounds combined with a realistic mossy texture and water erosion, make The Nile ideal for caves, caverns and grottos. It is also suitable for other water-endowed environments such as river edges and streams.
Tigris – Intended for smaller sweet water streams affected by tidal fluctuations, Tigris, when moist, has a sticky and even slippery feel. It also takes on a baked look when mud solidifies and is parched by the sun.
Euphrates – Similar in quality to Tigris, but composed of more white soil, this special material is not as slippery. With sediments of brown stone inside, Euphrates is especially visible in shadows. Picture immense boulders in clustered in river beds or along river banks.
---