Rapier Duels for Genesis 2 Male(s)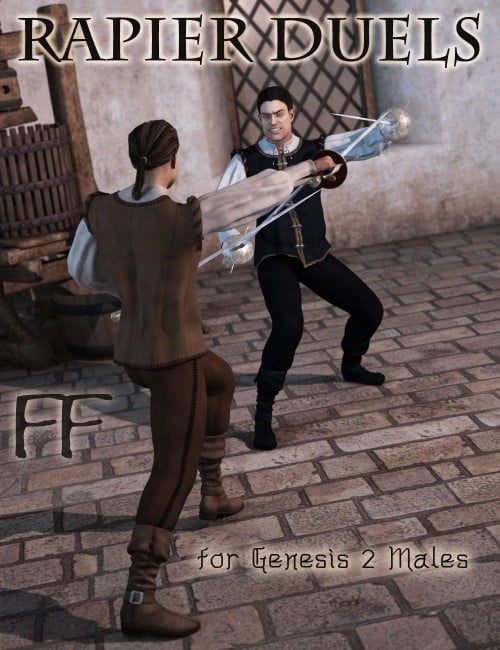 There are 8 single stance poses describing the action of saluting one's opponent and coming to en garde for both the left hand and right hand rapiers. There are 6 two person dueling vignettes for both the left and the right hand rapiers, 4 two person dueling vignettes for mixed grip melee's (ie: right handed sword against a left handed sword and vice versa), and 2 two person dueling vignette for fighting "a case of rapiers" – reserved for the most accomplished of swordsmen where both the left and right hand rapiers are employed.
The bell guarded rapier comes in both left and right hand versions and includes a detailed "Duelist's Companion" texture – featuring displacement mapped embossing on the bell and handcrafted diffuse maps with a keen attention to detail. It is a weapon worthy of your finest renders.
Bell Guarded Rapier (.DUF and .PP2)
Right Hand Smart Prop
Left Hand Smart Prop
Poses for Genesis 2 Male(s), Michael 6 and Michael 4 Shapes: (.DUF and .PZ2)
8 Single Stance Poses:
01 RH Salute Part A
02 RH Salute Part B
03 LH Salute Part A
04 LH Salute Part B
05 RH Move into En Garde
06 RH En Garde
07 LH Move into En Garde
08 LH En Garde
6 Right Hand Rapier Dueling 2-Person Vignette Poses:
10 A & B RH Squaring Off
11 A & B RH Lunge to Pierce Bicep
12 A & B RH Thrust to the Heart
13 A & B RH Incartata
14 A & B RH Pommel Punch and Disarm
15 A & B RH Pitch Back to Disarm
6 Left Hand Rapier Dueling 2-Person Vignette Poses:
17 A & B LH Squaring Off
18 A & B LH Lunge to Pierce Bicep
19 A & B LH Thrust to the Heart
20 A & B LH Incartata
21 A & B LH Pommel Punch and Disarm
22 A & B LH Pitch Back to Disarm
4 Mixed Grip Rapier Dueling 2-Person Vignette Poses:
24 A RH Stop Cut to the Throat (Advantage)
24 B LH Stop Cut to the Throat (Disadvantage)
25 A LH Stop Cut to the Throat (Advantage)
25 B RH Stop Cut to the Throad (Disadvantage)
26 A RH Stop Cut to the Chest (Advantage)
26 B LH Stop Cut to the Chest (Disadvantage)
27 A LH Stop Cut to the Chest (Advantage)
27 B RH STop Cut to the Chest (Disadvantage)
2 "Case of Rapiers" (two swords apiece) Dueling 2-Person Vignette Poses:
29 A & B In Line Guard
30 A & B Double Ward
1 "Duelist's Companion" Material Option
Textures Include:
2 Textures and Displacement Maps (4000 x 4000)
DAZ Studio Material Preset (.DUF)
Poser Custom Material Preset (.MC6)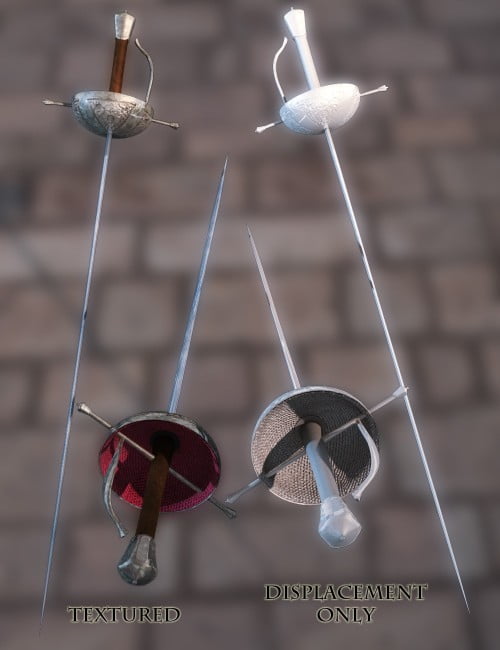 ---