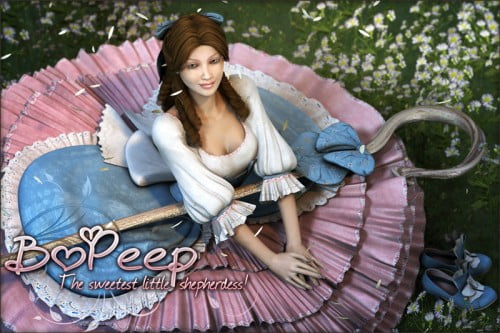 Little Bo Peep has lost her sheep….
… Or maybe that's just an excuse to sneak out to kiss the boys behind the hay stacks.
Come see the darling of the countryside, the belle of the pastoral scene…
The mistress of all things that go… Baaaaaaa
Features:
Dress (cr2 and obj)
Bloomers (cr2 and obj)
Socks (cr2 and obj)
Shoes (cr2 and obj)
Hook (cr2 and obj)
3 complete sets of High Resolution Textures
DS4 Shaders and Poser 6+ Mats/Poses
Foot Injection Poses for High Heel Shoes
Product Includes:
Beautifully crafted 3d modeling and rigging by Littlefox.
High Resolution Textures by SecretHeart
Fully rigged with many Ghost Handles.
3 fully textured sets of cuteness.
Additional Notes:
UVmaps were created in UVLayout to offer the easiest possible texturing experience.
Morph Support for Girl 4, Aiko 4, Sylph & Utopian Morphs (Elite) and Thin, Young, and Voluptuous Morphs (V4++)
MANY fit morphs to allow for adjustments to non-supported characters.
RDNA Pro is a group of artists, masters in each of their fields, combining their skills to create stunning tools for your renders.
Product Details:
Poser Version: Poser 6+
Daz Studio: Daz Studio Compatible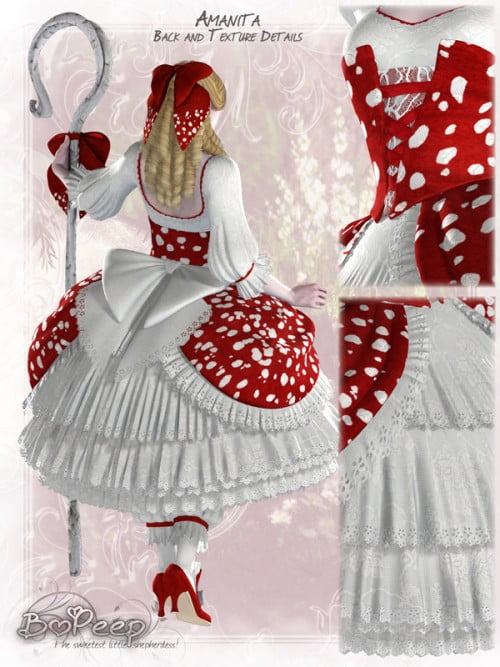 ---