RDNA Pro: Bo Peep Hair for V4
BoPeep hair features the finely detailed multi-layered sausage curls that give just the right amount of bounce to any girl's step.
Rigged with multiple ghost joints, it gives the user the freedom of posing with swaying and twirling and motion, without the memory bog of too many morphs.
But there are morphs!!!! For your standard A4 and G4 head types, there are fits. There are also many morphs for 'fitting' adjustments to arrange the hair around 3rd party characters.
And to top all of this off, textures! Oh the textures!!!!
Bo Peep Hair (cr2 and obj)
24 DS Hair Material Presets
24 Poser Mat Poses
24 Poser Material Files
High Resolution Textures
Additional Notes:
This product was UVMapped in UVLayout for the easiest possible texturing experience.
This hair is fully rigged to allow a huge amount of motion without the memory bog of additional morphs. Simply seek out the ghost joints and you're on your way.
RDNA Pro is a group of artists, masters in each of their fields, combining their skills to create stunning tools for your renders.
Product Details:
Poser Version: Poser 6+
Daz Studio: Daz Studio Compatible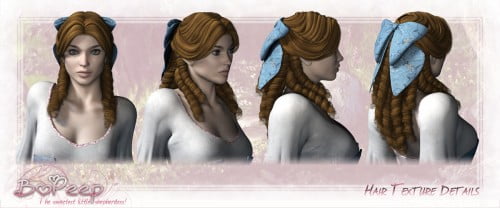 ---