Reality 3 for Poser (win x64 only)?marks a new milestone for Pr?t-?-3D as this version relies on a new Poser add-on framework that has been designed in a cooperation between Pr?t-?-3D and the Poser development team.
This Add-on Framework, released in Poser 9/Pro 2012 SR3, provides a new level of integration for Poser plug-ins that was not available before. Reality 3 is the first plug-in that takes advantage of the Framework. We are honored to have had the opportunity to help shape this new technology for Poser.
Some of the features of Reality 3 for Poser are:
Conversion of Poser shader trees, including most procedural nodes (Granite, Brick, fbm etc.) and advanced nodes like ?Blender,? ?Edge Blender,? ?Color Math? etc.
Support for most LuxRender materials, including the new ?Glossy coating? material.
Addition of Reality?s own ?Skin? and ?Hair? materials.
Support for most LuxRender textures, including procedural ones like ?Clouds,? ?Distorted noise,? ?Mix,? and ?Multimix.?
Texture editor with unlimited levels of nesting.
Support for LuxRender?s new Volumes.
Reality 3 for Poser is a native program running at full speed on 32 and 64-bit systems.
Available for both Mac OS and Windows.
Auto-updating, non-blocking User Interface that allows you to work on Poser while running Reality at the same time.
Rendering via both LuxRender and SLG (Small Lux GPU), the GPU-based renderer.
Support for LuxRender?s GPU acceleration.
ACSEL (Automatic Custom ShadEr Loader) support. Save your shader presets and load them automatically for additional efficiency and fun. ACSEL shaders load automatically when a connected figure or object is used in Reality.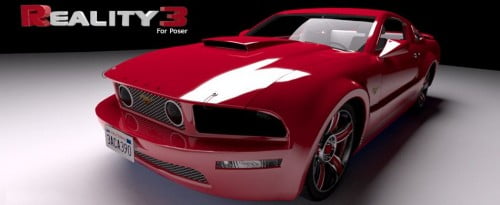 ---